Over the weekend, I cooked a very simple, visually appealing, wholesome, comforting, nutritious meal with loads of vegetables and which didnt take in too much of cooking time. I really wasn't in an adventurous mood and decided to play safe with the ingredients used in making a Indo-Chinese fusion meal, comprising of a vegetable stir fry and fried rice dish since we had an elderly guest visiting us for lunch. He is the typical Andhrite who loves his rice and chepa pulusu (fish cooked in a tangy spicy sauce) and whose meal has to have spice, definitely not bland. It was a challenge for me with hubby dear wanting to eat a meal with a Chinese flavor and a relative (with an uninitiated palate to Chinese cuisine) who loves spice and was willing to eat whatever I served him. What I like about Indo-Chinese fusion cooking is, you have enough room to experiment from scratch, don't have to follow any particular cookbook method, less cooking time though the preparation time is much more than the actual cooking time and the recipes are not traditional in the sense that they haven't been passed down by our grandmothers. Indo-Chinese fusion cooking is versatile (free-style) in the fact that you can mix and match different foods and ingredients, flavors and textures to suit your palate and also gives you the freedom to concote your own recipes.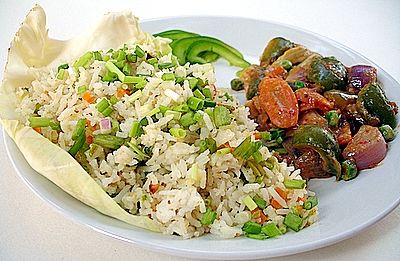 So here it is, my creation Indo-Chinese medley of a simple and easy yet flavorful and nutritious peanut flavored vegetable fried rice and vegetable stir fry in peanut-chilli sauce where the cooking style or technique is primarily Chinese and infused with Indian ingredients.
Peanut Flavored Vegetable Fried Rice Recipe
Ingredients:
3 1/2 cups of cooked basmati rice or any long grained rice (each grain should be separate and the rice should be completely cool)
1 1/2 tbsp peanut oil
1 bunch of chopped spring onions
2 green chilli slit length wise
fistful chopped carrots
fistful chopped french beans
fistful chopped cabbage
fistful boiled green peas
½ tsp white pepper powder
1 tbsp white vinegar
2 tbsps of coarsely pwd roasted peanuts
salt to taste
Heat peanut oil to a smoking hot pan or wok and add the carrots and beans and stir fry them for 2 minutes and then add the cabbage, capsicum, green chillis and onions and stir fry on high heat tossing them about till the vegetable get tender. Now add the green peas. Immediately add the cold cooked rice, salt, white pepper powder and peanut pwd and stir fry for sometime till rice and vegetables are nicely mixed together. Add the vinegar and stir in everything till well mixed and then sprinkle the chopped spring onions and stir it in. Serve hot. Remove the green chillis from the rice before serving.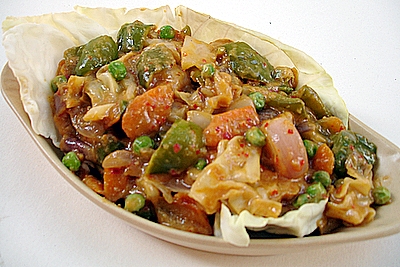 Stir-Fried Vegetables in Peanut-Chilli Sauce Recipe
Ingredients:
1 green capsicum, cut into big pieces
2 onions (quartered)
2 carrot thinly sliced (diagonally)
1 bunch of spring onions,finely chopped
1 small cup of boiled green peas
1 cup cabbage cut into big pieces
1 tsp freshly minced ginger
2 tbsp peanut oil (I prefer peanut oil for the flavor it imparts to the food and it holds up to the hot-pan temp which is vital to chinese cooking)
1 tbsp soya sauce
1 tbsp cornstarch mixed in 3-4 tbsps of water
For sauce:
7-8 tbsps of water
7-8 garlic flakes (fry in a tsp of oil till rawness disappears)
4-5 dry red chillis (deseed and soak in water for 10 minutes so that the pungency is reduced)..you can reduce the chillis if you want less spice
3 tbsps roasted peanuts
1 tbsp of grated jaggery (or brown sugar or panela)
Grind all the above ingredients for the sauce to a paste.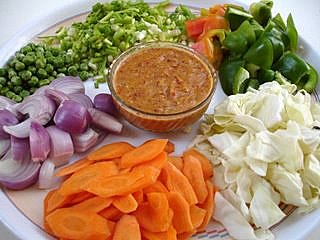 Heat a pan or wok to smoking hot and then add oil. Add minced ginger and stir fry for a few seconds and let the aroma permeate the kitchen. Now add carrots and stir fry for a minute and then add the cabbage, capsicum and onions. Now stir fry all the vegetables constantly till tender. Don't over cook them. They should be crunchy and crisp and not mushy. Add the peanut chilli sauce and soya sauce and stir fry till the vegetables are well coated. Add 2-3 tbsps of water and salt, if your find that the sauce is getting stuck to the vessel, don't fret. Its natural and keep stir frying for a few minutes and then add the cornstarch with the water and let it combine with the vegetables till your get a glazed look to the vegetables. Garnish with spring onions and serve hot with any fried rice or noodles.
Indeed,the vegetable fried rice generously flavored with peanuts and stir fry vegetable dish in a very flavorful sauce was delicious and had my guest asking for more. I knew my tyrst with Indo-Chinese fusion cooking was successful in initiating his palate to a totally new taste. I had earlier blogged about some of my adventures with Indian-Chinese fusion cooking like Sprouts Fried Rice,Spiced Fish Fillets and Sweet and Sour Chicken Legs,and they were devoured even before they reached the dining table..:).
Since this fusion meal is loaded with nutritious vegetables, it makes an apt entry to Sweetnicks Anti-Oxidant Rich Foods ARF 5 Day as well as Meena's "From My Rasoi" March theme Fusion Foods.