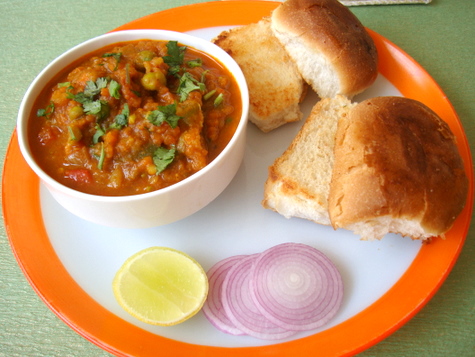 Pav Bhaji
I enjoy preparing street food fare at home. It's comforting and unpretentiously rooted in Indian culinary tradition. Today, I'm blogging Mumbai's famous street food, my kind of comfort food – Pav Bhaji. Pav = Soft Bun and Bhaji = a mashed mixed vegetable curry prepared with Pav Bhaji Masala. The key to a good Pav Bhaji lies in the quality of bread and the masala that goes into the making of the spicy bhaji. Makes for a filling evening meal.
Farm fresh assorted vegetables ~ Mixed Vegetable Bhaji
The bhaji makes optimum use of Mother Nature's bountiful supply of fresh vegetables. Not less than 7-8 variety of vegetables go into its making. Now that sure makes it nutrient rich, doesn't it? 🙂
Pav Bhaji Recipe
Prep & Cooking: 50-60 mts
Serves 7-8 persons
.
Ingredients:
1 large carrot, cubed
2 potatoes, cubed
1 capsicum, chopped
1 cup cauliflower florets, chop
8-10 french beans, string and chop
1/4 cup green peas
2 onions, finely chopped
2 green chillis, slit length wise
1 tsp ginger-garlic paste
1/4 tsp turmeric pwd
1/2 tsp red chilli pwd
1 1/2 tbsps Pav Bhaji Masala
3/4 tsp sugar (adjust)
salt to taste
2 tomatoes, finely chopped
1 tbsp lemon juice
1 tbsp low fat butter (vegans can avoid butter)
fresh coriander leaves for garnish
1 1/2 tbsps oil
16 lightly toasted in butter, pav bread (vegans can use vegan butter substitute)
1 Pressure cook potatoes, cauliflower, peas, beans and carrot along with 1 cup of water, till soft. Drain any left over water and keep aside. Mash all the cooked vegetables using a masher.
2 Heat oil in a vessel, add the green chillis and onions and saute for 4 mts. Add the ginger-garlic paste and saute for another 3 mts. Add capsicum and saute for 2 mts.
3 Add the chilli pwd, turmeric pwd, pav bhaji masala, sugar and salt. Combine well. Add the tomatoes and cook until soft, approx 5-6 mts.
4 Add the mashed vegetables along with a cup of the drained vegetable stock and cook on high for a mt. Reduce flame and simmer for 14-15 mts.
5 The gravy will begin to thicken. Adjust the salt, if required. Turn off heat and add butter and lemon juice and combine. Garnish with fresh coriander leaves.
6 Serve hot with lightly toasted pav/pau and sliced onions.
Note:
You can use 2-3 vegetables also while preparing the bhaji. I have not used cabbage and beetroot since I did not have them on hand at the time of preparation. Using beetroot will lend a deep reddish purple color to the bhaji.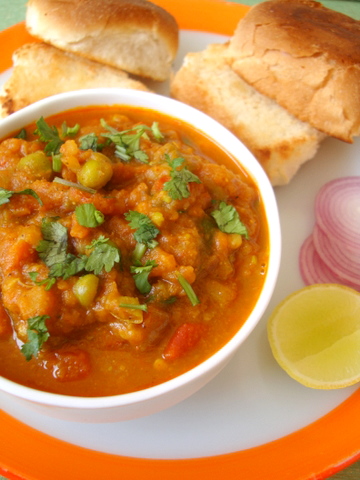 Pao Bhaaji