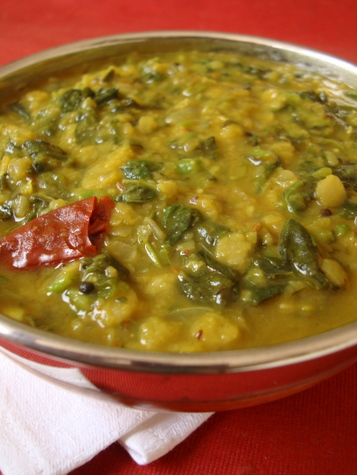 Pappu Thotakura
I really appreciate this part of the year and even more farm fresh produce. This morning, my regular vegetable vendor brought home fresh Thotakura aka amaranth leaves. Isn't it lovely cooking clean and fresh ingredients and transforming them into simple healthy meals?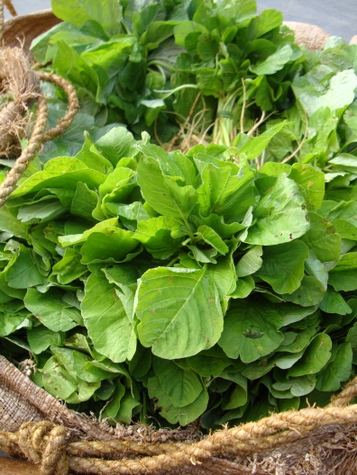 I prepared Pappu Thotakura. I had earlier blogged a version of Thotakura pappu which calls for the use of tamarind. Today its a more simpler, unassuming version sans tamarind. Earthy, healthy and satisfying!
Pappu Thotakura Recipe
Prep & Cooking: 40 mts
Serves 4-5 persons
Cuisine: Andhra
.
Ingredients:
3/4 cup tur dal (kandi pappu) pressure cook until soft and mash lightly
2 cups tightly packed thotakura leaves (not the stalks)
1 onion finely chopped
4 green chillis slit length wise
1″ ginger, finely chopped
1/4 tsp turmeric pwd
For tempering/poppu/tadka:
1 tbsp oil
1/2 tsp mustard seeds
1/2 tsp cumin seeds
3-4 dried red chillis (tear into pieces)
5-6 garlic flakes crushed
10-12 curry leaves
1 Heat oil in a heavy bottomed vessel, add mustard seeds, let them pop, add the cumin seeds, garlic, red chillis, curry leaves and saute for a mt. Add the chopped onions, green chillis and ginger and sauté till onions turn slightly pink.
2 Add the thotakura and stir fry for 4 mts. Add the turmeric pwd and salt and combine. Cover with lid and cook till the greens cook (approx 7-8 mts). Using the back of the ladle, mash the contents slightly.
3 Add the cooked and mashed dal to the onion-thotakura mixture. Add salt and 3/4 cup of water and cook for another 8-10 mts on low-medium heat.
4 Serve with white rice or hot rotis.
Note:
Alternately, you can separately pressure cook the onions, greens, garlic and green chillis and combine with the mashed dal and follow the rest of the procedure.