Paneer paratha, a stuffed Indian flatbread made with whole wheat flour, homemade paneer, desi ghee, Indian spices and fresh coriander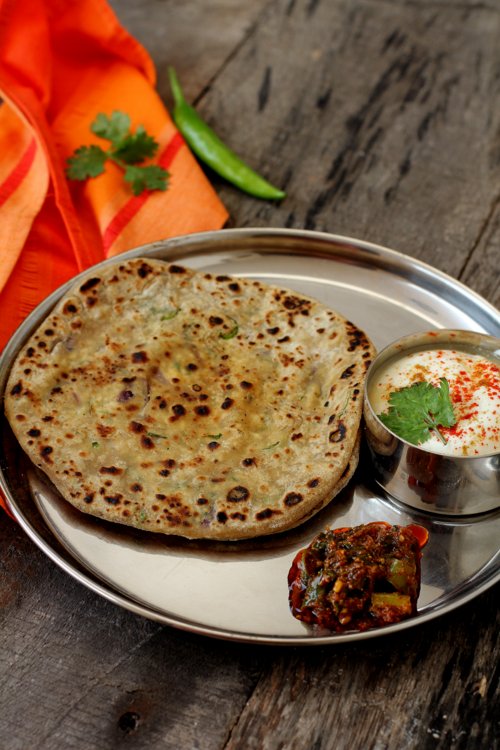 paneer paratha
Recipe of paneer paratha that is simple, quick to prepare, healthy and delicious. I have tried innumerable varieties of paneer paratha recipes over the years using a combination of different spice mixes, with and without onion. One of my Punjabi friend's mother taught me a very straight forward, simple recipe of paneer paratha that is very popular with her family and friends. In fact, she helped me perfect the paneer kulcha recipe on my blog. I owe a lot to my Hindi speaking friends from the North who helped me perfect quite a few dishes of North Indian cuisine.
Usually, most Punjabis like to make rich parathas laden with oodles of ghee and can be pretty heavy on the stomach. But the Punjabi style paneer paratha recipe that I am sharing with you is definitely not heavy on the stomach.
grated paneer stuffing for paratha – paneer paratha preparation
I like to use minimal ingredients and spices for the paneer stuffing so that the paratha has a pronounced paneer flavour. Finely chopped green chillies and fresh coriander leaves complement fresh paneer stuffing giving it lively, invigorating flavours.
At home, I usually serve paneer paratha with a side like green chilli pickle and raita. It makes for an unbelievably flavourful and satisfying meal. Sometimes, if time permits I make dal tadka, tomato capsicum curry or a mixed vegetable curry as a side dish. But most times, I like to eat it with achar, either mango or green chilli.
It is perfect for kids lunch box. Just pack the paneer paratha with a side dish that includes achar, raita or curd (yoghurt). It makes for a great breakfast or brunch option but can also be served for lunch or dinner.I must say it is a snack on its own. To add a twist to the basic recipe, you can add some grated cheese to the paneer stuffing. You have paneer cheese paratha ready for your kid as an after school snack. Like most mothers, I am always looking for ways to incorporate paneer into Nehal's diet be it a snack like chilli paneer, paneer pakora, paneer sandwich or paneer tikka.
For a non-dairy option, use tofu and replace ghee with vegetable oil. You can look forward to a Jain style paneer paratha in future posts.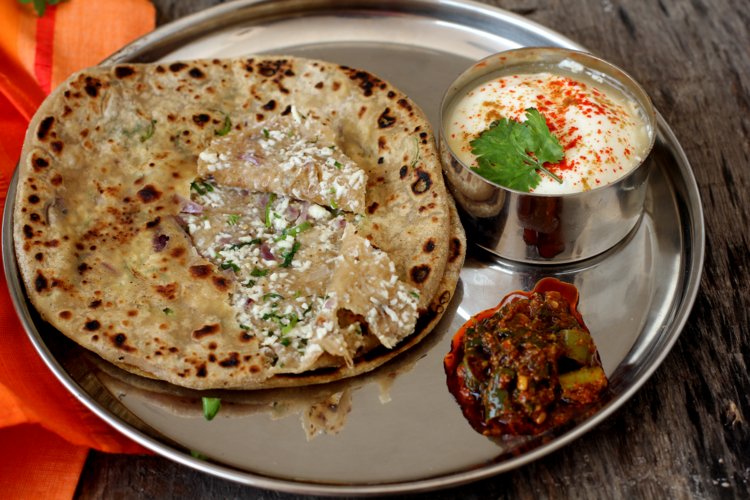 punjabi style paneer paratha served with green chili coriander pickle and dahi (curd)
The whole wheat flour, paneer and desi ghee used in making this recipe are all homemade. I usually buy whole wheat grains allow the grains to sun dry for a day or two and get it ground at the neighbourhood flour mill. I use desi cow milk (Indian breed cows with a hump) to make ghee as well as paneer. You will find posts on how to make ghee as well as how to make paneer in the archives.
I have been on an eight-month sabbatical from the blog. The longest blogging break I have ever taken. I appreciate your emails enquiring about me and am blessed to have such loyal and concerned readers. I am incredibly thankful and grateful for your love and good wishes. Thank you very much! 🙂
How to make paneer paratha recipe – ingredients, method and tips to make soft, perfect parathas