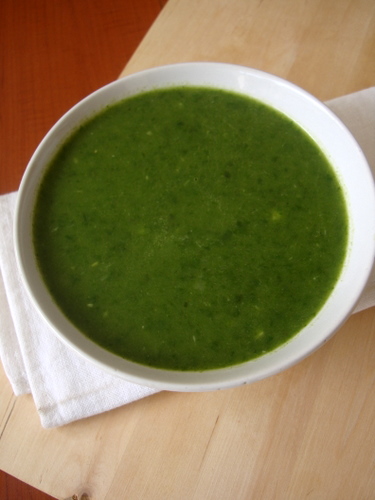 Spinach Soup
Last week was a rain filled week. On one such rainy day, I prepared spinach soup. I sat in the veranda relishing a bowl of vibrant green spinach soup, watching the rain and waiting for Nehal to come home from school. Chill weather, pouring rain and a hot bowl of soup! What more can a girl want. 🙂
Despite the humble ingredients, this spinach soup is simple yet extremely flavorful. And you can bring it to the table in less than 30 minutes. Do check out another version of spinach soup I blogged earlier on.
Spinach Soup Recipe
Preparation & Cooking: 30 mts
Serves 3 persons
.
Ingredients:
3 big bunches thoroughly washed spinach
1″ cinnamon stick
3 cloves
1 bay leaf
few curry leaves
1 medium-sized onion, finely chopped
3 garlic cloves, finely chopped
1/4 tsp finely chopped ginger
1 green chilli
1 tbsp butter
2 tsps rice flour mixed in 2 tbsps water
1 1/2 tsps malai/top of milk or fresh cream (optional)
black pepper to season
salt to taste
1 Heat butter in a pan, add cloves, cinnamon, bay leaf and curry leaves. Saute for few secs. Add the onions, chopped garlic and ginger and saute for 4 mts. Add the spinach leaves along with a green chili and saute for another 2 mts.
2 Add 4 cups of water. Let it cook till the leaves turn tender, approx 5-6 mts. Do not over cook.
3 When cool, strain. Discard the cloves, bay leaf and cinnamon stick. Puree the spinach-onion mixture.
4 Add the the left over strained stock to the pureed spinach and let it simmer on medium heat. Add salt and black pepper powder and mix. Simmer for about 8 mts. Add the rice flour mixture and go on stirring till the soup thickens slightly. Add malai or fresh cream and mix. Turn off heat.
5 Serve hot along with a few croutons.