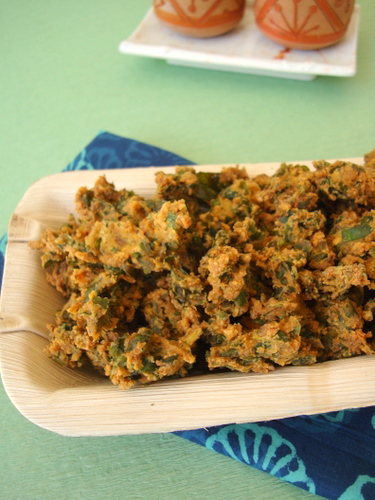 Palak Pakoda
Palak Pakoda is a monsoon snack that is super easy and quick to make. I found the freshest farm grown spinach at the Farmer's Market (rythu bazaar) and decided on making a North Indian style snack – Palak Pakoda. A vegetarian and vegan Indian snack that is a crowd-pleaser. I love the crisp texture and flavors that go into its making. The green chilies and ginger are the main ingredients that set everything off.
Palak Pakoda Recipe
Prep & Cooking: 20-30 mts
Serves – 5 persons
Cuisine: North Indian
.
Ingredients:
3 cups packed chopped spinach leaves/palak/palakura
1 1/4 to 1 1/2 cups besan/chick pea flour/senaga pindi
2 1/2 tbsps rice flour
1/2 tsp red chili powder
1/2 tsp roasted cumin powder
2-3 finely chopped green chilies (adjust)
1 tsp ginger-garlic paste
10-12 mint leaves finely chopped
2 tbsps finely chopped fresh coriander leaves
2 tbsps hot oil
water as required
salt to taste
oil for deep frying
1 Mix all the above ingredients adding salt as required and 2 tablespoons hot oil. Add very little water and mix. The batter should just coat the palak leaves and it should not be a flowing batter but a stiff batter. [Start with few tbsps of water and keep adding till the batter just coats the spinach leaves]
2 Heat oil in a deep frying or heavy bottomed vessel. Once the oil is piping hot, reduce flame to medium and drop a little mixture of the batter to form fritters. Deep the pakodas to a golden brown color. Do not over crowd the vessel.
3 Serve Palak Pakoda warm with a cup of masala chai or coffee. The pakodas can be stored in an air tight container for 2-3 days.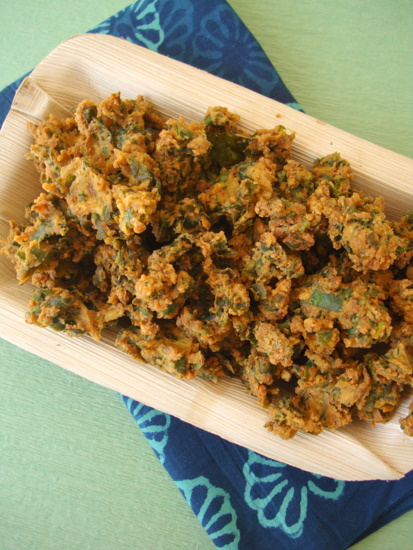 Palakura Pakodi