Pahari aloo recipe or aloo gutke is a simple, flavorful potato fry that's popular among the pahari people of Uttarakhand
Pahari aloo recipe is a regional culinary gem that has its origins in the hilly terrains of Uttarakhand. Pahari (pahari comes from the word 'pahad' meaning mountain) are 'the people inhabiting the hills" across the Himalayan region of India. Like the pahari people, the pahari food is simple and unpretentious. A close friend of mine belongs to pahari region of Uttarakhand and I have been fortunate to relish her simple home cooked pahari khana on many a occasion. Whenever she comes back from her home town, she brings me rajma (kidney beans), lemons, spices like jakhiya and dadim (dried tiny pomegranate seeds), mungaudi (dried moong dal balls), baadi (dried urad dal balls) and bal mithai (brown fudge type sweet coated with poppy seeds).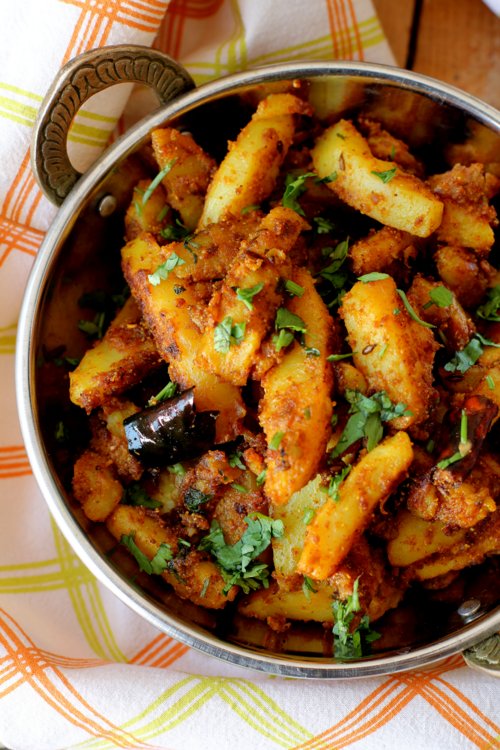 pahari aloo recipe – uttarakhand traditional food
Pahari food comprises of two regional cuisines, namely, Garhwali cuisine and Kumaoni cusine which boast of many exquisite rustic, nourishing and wholesome recipes that are mostly plant based, simple to make and extremely flavorful. These cuisines are healthy as they comprise mostly of cereals, pulses and leafy vegetables. Few of them include mandua (finger millet rotis), bhari roti (roti stuffed with cooked pulses called gehet), kandali saag (nettle leaves), kafuli (spinach dish), chainsu (urad dal), ras, bhatt chutney (made with small black soybean), khatta, pahari aloo palda and aloo gutke.
Traditional pahari cuisine uses a variety of herbs and spices unique to that region. Jakhiya is a spice indigenous to the himalayan region and used predominately in garhwali and kumaoni food. It is aromatic, resembles mustard seeds and has a unique, crunchy flavor. Most dishes that call for tempering of spices, be is aloo ke gutke, hara saag or dals like phaanu, is done in mustard oil or ghee. If you want to savor the authentic flavor of pahari food, jakhiya spice is an essential ingredient.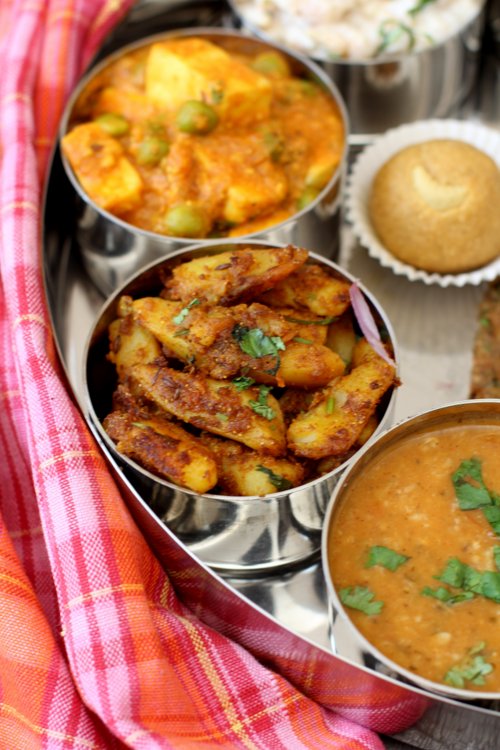 aloo gutke
The humble potato, abundantly produced in the hilly areas of Himalayan region, popularly known as "pahadi aloo' is very flavorful and in great demand compared to the potato variety grown in the plains. Pahari aloo recipe aka aloo gutke is a simple, no onion no garlic, every day potato fry. This sukhi sabzi has an earthy comforting flavor especially in the winter months. In fact, aloo gutke is a very popular snack among the local people and tourists and is sold by road side tea stall vendors. It is also served as a side dish with roti or puri. You can serve it as a party appetiser too.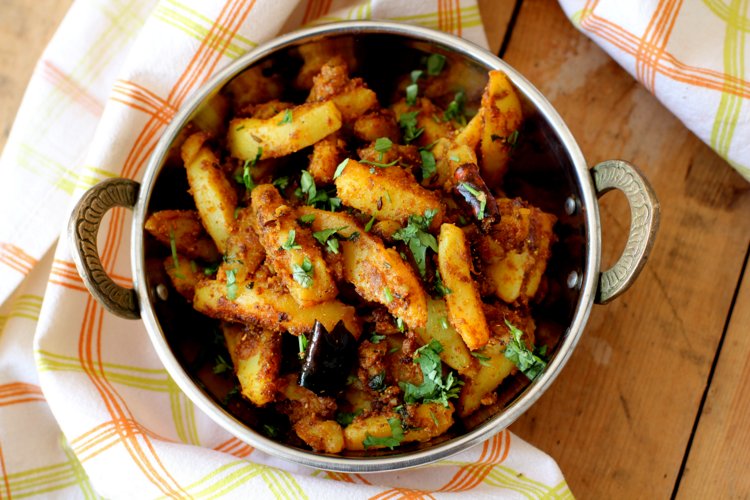 pahari aloo ke gutke
Pahari aloo recipe is one of the simplest Indian side dishes you can make in less than 10 minutes provided you have some boiled potatoes on hand. It is a dry saute potato dish wonderfully golden in color with earthy flavors making it a comforting winter dish. Pahari pototoes are cut into thin length wise pieces or cubes, tempered in mustard oil with aromatic spices like jakhiya, cumin seeds, dried red chillies and cooked on low flame till soft, tender and crusty. Many home cooks use boiled potatoes to make aloo ke gutke. I served aloo gutke with masala paratha but you can also serve it puri, roti or chapati.
You will find hundreds of Indian food recipes with variations to the basic aloo fry but pahari aloo ke gutke is definitely one of the best dry saute dish among aloo recipes.
Learn how to make pahari aloo recipe or aloo gutke