We Andhras love our Pachadis (chutney/condiment) and in our home pachadis are revered. Seriously. Mom makes the BEST pachadis you can ever imagine. The aromas that fill the kitchen during the preparatory process is something that has to be experienced. For instance, take today's pachadi which calls for green chilies. The intoxicating aroma of roasted green chilies and the sizzle of tempered spices hold promise of an eternally pleasing meal to come.
Most of the pachadi recipes you will find on my blog are simple and straightforward with minimal ingredients. The key is to use farm fresh vegetables and good quality ingredients.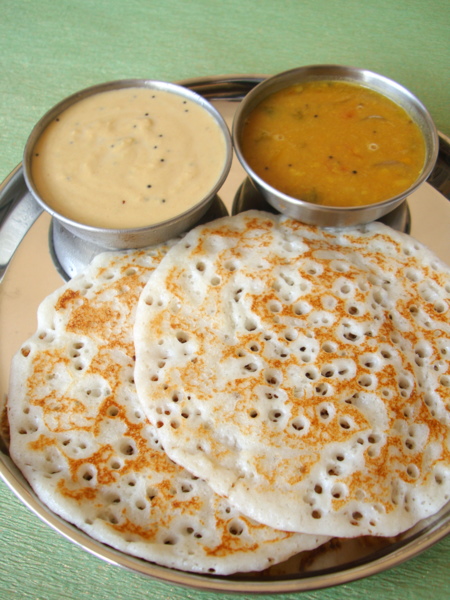 Sponge Dosa with Pachi Mirapakaya Pachadi and Sambar
Green Chili Chutney Recipe
Prep & Cooking: 15 mts
Cuisine: Andhra
.
Ingredients:
10-12 green chillis (the ones with less spice, reduce chilies if spicy)
1 tbsp minapapappu/black gram dal/urad dal
¼ tsp cumin seeds/jeera/jeelakara (optional)
1 tbsp tamarind paste
1 tsp jaggery or sugar
salt to taste
3 tsps oil
For seasoning/poppu/tadka:
1/2 tsp mustard seeds/aavaalu/ria
few curry leaves
1/2 tsp oil
1 Heat 2 tsps oil in a vessel, add cumin seeds, let them splutter. Add the green chillis (remove the stalks) and fry for 3-4 mts. Remove from heat and cool. In the same pan, add a tsp of oil add the urad dal and saute till the dal turns red. Remove from heat and cool.
2 Grind the sauteed green chili mixture, urad dal, jaggery, tamarind and salt to a paste. Add few tbsps water while grinding.
3 Heat oil in a pan, add the mustard and let them splutter. Add curry leaves and turn off heat. Pour this seasoning over the chutney and serve with any tiffin like idli or dosa.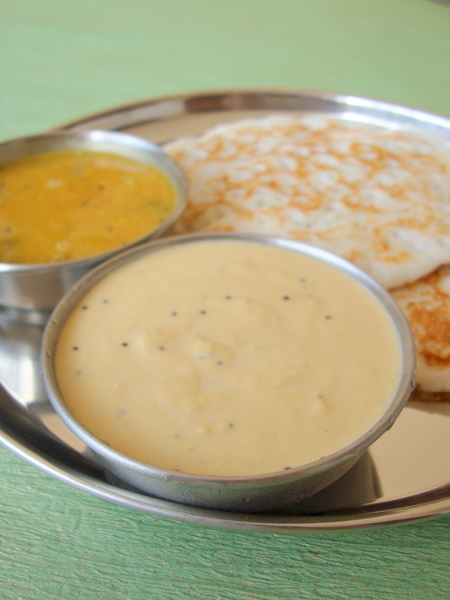 Green Chili Chutney