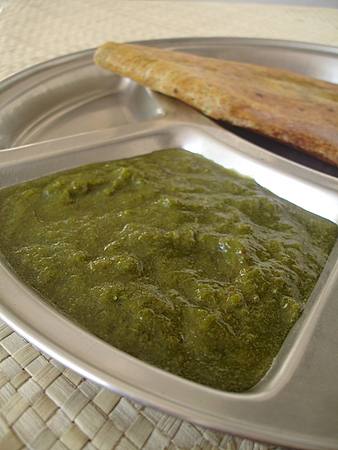 Pachi Kothimira Pachadi with Pesarattu
Regular readers of my blog will know that I'm a huge fan of fresh coriander leaves. Pachi kothimira pachadi is a very simple recipe that is easy to make, healthy and flavorful. This authentic pachadi, one of Andhra's raw food side dishes, makes a excellent pachadi with famed Andhra Pesarattu. This humble pachadi with a tangy-sweet flavor due to the tamarind and jaggery and subtle spice taste of the green chillis, is prepared by grinding raw coriander leaves with tamarind and green chillis.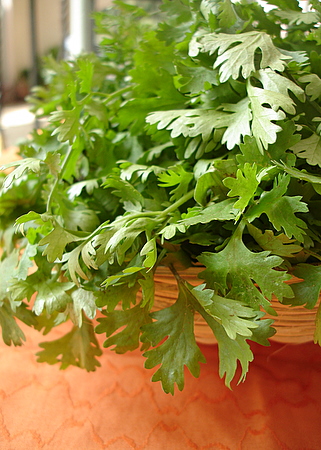 Garden fresh coriander leaves
Pachi Kothimira Pachadi Recipe
Recipe source: Amma
Preparation: 8-10 mts
Serves 4-5 persons
Cuisine: Andhra
.
Ingredients:
2 1/2 cups packed fresh coriander leaves
2-3 green chillies (increase or decrease to suit your spice level)
large gooseberry sized tamarind (soak in 2 tbsps warm water)
1 tsp jaggery or sugar
salt to taste
1 Grind the coriander leaves, tamarind, jaggery, green chillies and salt to a smooth paste. Don't add any water. Remove onto a bowl.
4 Serve with hot pesarattu, dosas or idlis.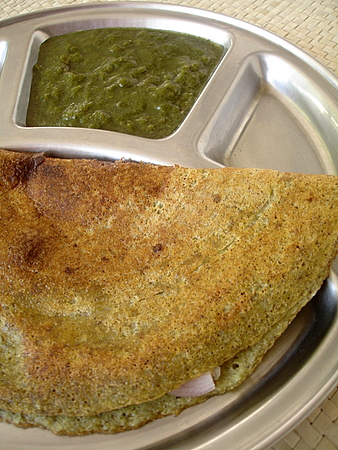 Raw Coriander Chutney