A super easy no bake dessert that you can whip up in minutes is a fridge cake. Few days ago I prepared a no bake chocolate biscuit cake and it was all gone within a few hours. Not much of a recipe. Just four ingredients – biscuits, butter, golden syrup and chocolate go into its making. Digestive biscuits work best but you can use Britannia Marie biscuits too. Golden syrup can be substituted with honey. Go ahead and add some chopped nuts and dried fruits to add to the richness. This cold cake is something you'd want to make again and again. 🙂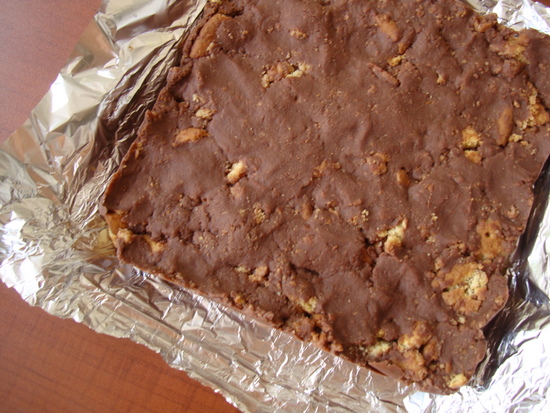 No Bake Chocolate Biscuit Cake
No Bake Chocolate Biscuit Cake Recipe
Preparation: 10 mts, Setting: 2-3 hours
.
Ingredients:
10 digestive biscuits or Marie biscuits
150 gms chopped chocolate
1 tbsp golden syrup or honey
1 1/2 tbsps butter
2-3 drops vanilla essence (optional)
1 Lightly grease a square baking pan and line with butter paper.
2 Break the biscuits into small pieces. (do not powder the biscuits, lightly crush)
3 Melt the butter over a double boiler. Add chopped chocolate and let it melt. Keep stirring and see that the chocolate does not burn.
4 Remove the bowl from the double boiler and add golden syrup and mix. Add vanilla essence and mix. Add crushed biscuits and mix.
5 Pour this mixture into the greased and lined pan and lightly smoothen with a spatula. Bring to room temperature.
6 Cover the baking pan with aluminum foil and place in fridge to set. After 3 hours when its fully set and chilled, remove and unmold the cake onto a plate. Remove the butter paper and cut into squares and serve.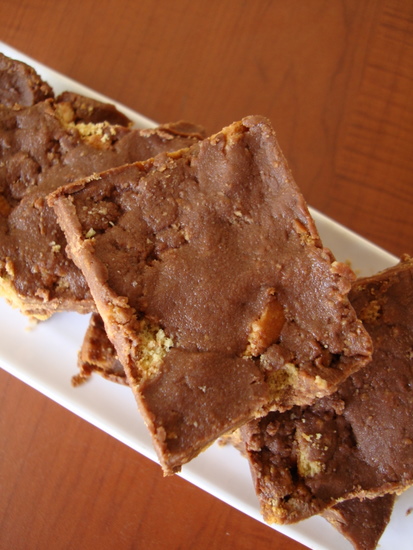 Fridge Cake