Yesterday was a busy day and meant less time in the kitchen. Made a simple, lemon-flavored, vibrant colored rice that was not only quick to prepare but brightened up my day. Relished it with yogurt and papads. An all time favorite especially during travel and as picnic food. Love the way how a pinch of turmeric adds color and the visual appeal of seasoning of spices, curry leaves and peanuts, nestled among the rice.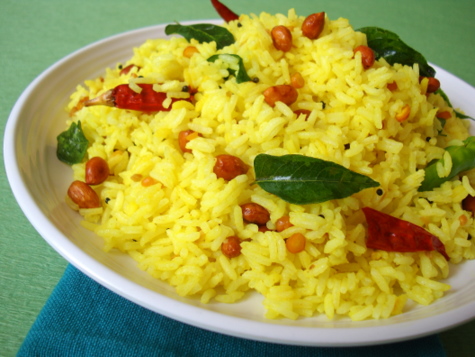 Lemon Rice
Prep & Cooking: 30 mts
Serves 3-4 persons
.
Ingredients:
1 cup raw rice, cook rice with each grain separate
8-10 curry leaves
juice of 3 lemons (approx 6-7 tbsps) adjust
3-4 tbsps roasted peanuts
salt to taste
Tempering/Poppu/Tadka:
1 tbsp oil
1/2 tsp mustard seeds
1 1/2 tsps urad dal/minappa pappu/split gram dal
1 tbsp channa dal/senaga pappu/bengal gram
2 dry chillis, tear and de-seed
pinch of hing
1/2 tsp grated ginger
2 green chillis, slit
1/4 tsp haldi/turmeric pwd/pasupu
1 Heat oil in a vessel, add the mustard seeds and as they begin to sizzle, add the dals and allow them to turn slightly red, add curry leaves, green chillis, grated ginger, red chillis and stir fry for few more secs. Add asafoetida and turmeric pwd, roasted peanuts and combine. Turn off heat.
2 Add salt to taste and 3/4th of the lemon juice and combine well. Add the seasoning and combine that it coats the rice well.
3 Taste and if you feel that it needs more tang, add more lemon juice accordingly.
4 Serve with any curry of your choice, yogurt and appadam.