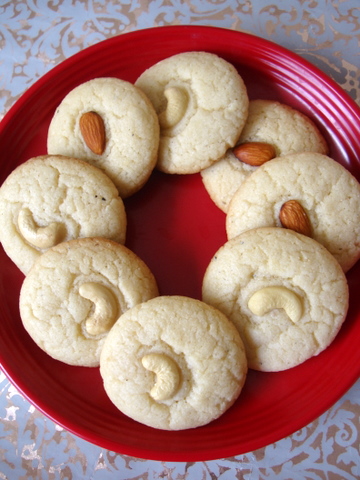 Nan Khatai – Eggless Indian Cookies
There is something about wet, cold weather that makes baking very appealing filling the house with warmth. Sunday was one such day with pleasant weather and all, that pushed me to bake cookies. Nankhatia is a fabulous eggless shortbread style butter cookie without the baking soda aftertaste. These cookies that have their origins in Surat make for a delicious tea time treat that please the young and old alike. I love the addition of semolina which imparts a marvelous texture to the cookie.
Nankhatai Recipe
Preparation: 10 mts, Baking: 20-22 mts
Makes approx 18-20 cookies
.
Ingredients:
2 cups all purpose flour (maida)
1/4 cup semolina/sooji
1 tbsp besan/chickpea flour (optional)
1/4 tsp baking soda
1/2 tsp cardamom pwd
1 1/4 cups powdered sugar
3/4 cup ghee or melted butter or oil
2 tbsps yogurt/curd
1 Sieve maida, baking soda and cardamom pwd.
2 Blend the sugar, ghee and yogurt till smooth. Its important you really combine well. Add the sieved ingredients and semolina to the sugar-ghee mixture. The dough should be kneaded well for at least 7-8 mts. If the dough is not stiff enough to roll out into balls, add a few tbsps of cold milk and chill for a few minutes.
3 Pinch dough and shape into small balls and slightly flatten. Garnish with almonds or pista or cashews by slightly pressing into the dough. Place on a greased tray with enough space between each ball as they spread out. Pre heat oven for 15 mts, bake at 180 C for about 20-22 mts. Once baked, the cookie will feel soft on touch. Remove from oven and cool and the cookies will harden.
4 Cool on a wire rack and store in airtight container.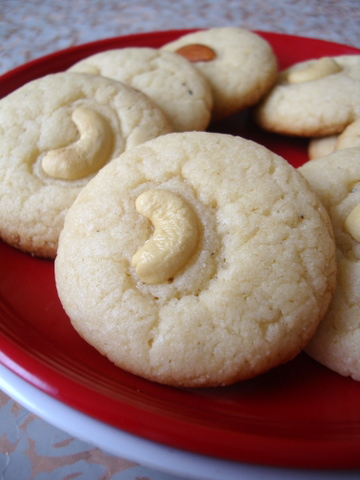 Nankhatai