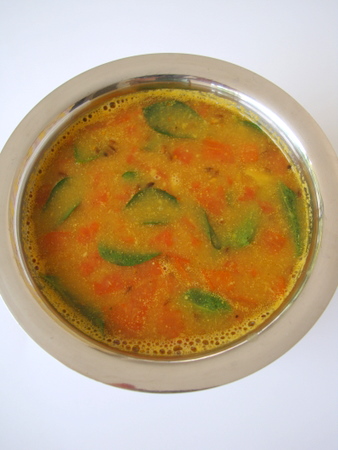 Mysore Rasam
At least 4 days a week, our lunch is a typical South Indian meal. And an integral part of every such meal is 'chaaru', the Andhra version of Tamil Nadu's 'rasam'.
The other day I made Mysore Rasam, a tamarind based Indian soup and served it along with bitter gourd stir fry and rice. The tempering of the spices and fresh curry leaves in ghee blend with the simmering tamarind and tur dal base filling the kitchen with a nutty, warming aroma that is simply irresistible. You'd want to eat your meal much before lunch-time. 🙂
Mysore Rasam Recipe
Prep & Cooking: 30 mts
Serves 4-5 persons
Cuisine: South Indian
.
Ingredients:
1/2 cup cooked and mashed tur dal
small lemon sized tamarind, soak in 3 cups warm water
small tomato, chopped
pinch of turmeric
salt to taste
coriander leaves for garnish
Roast and pwd:
1 tbsp tur dal
1/2 tbsp pepper (adjust)
1/4 tsp methi seeds
1/4 tbsp cumin seeds
3/4 tbsp coriander seeds
3-4 dry red chillis
1/2 tbsp coconut (optional)
For tempering/tadka/poppu:
1 tsp ghee
1/2 tsp mustard seeds
3/4 tsp cumin seeds
10-12 fresh curry leaves
1 Heat a tsp of oil in a pan, add the ingredients called for rasam pwd except grated coconut, roast on low to medium flame for 3 mts. Add the grated coconut and roast for another mt and turn off heat. Cool and make powder.
2 In a vessel, add the tamarind water, salt, turmeric pwd, mashed tur dal, rasam pwd and chopped tomato and bring to a boil. Boil for a mt and turn off heat. Add jaggery and place lid.
3 Heat a pan, add ghee, add the mustard seeds and let them pop. Add the cumin seeds and curry leaves and once the cumin splutters, add asafoetida and turn off heat. Pour into the boiled rasam. Garnish with chopped coriander leaves.
5 Serve with hot rice and appadams or drink as a hot soup.
Note:
Jaggery is an optional ingredient. You can even add grated coconut as a garnish instead of adding it as an ingredient in the rasam pwd.