Mushroom masala recipe, a popular restaurant style Indian gravy curry served with chapathi, lachcha paratha and pulao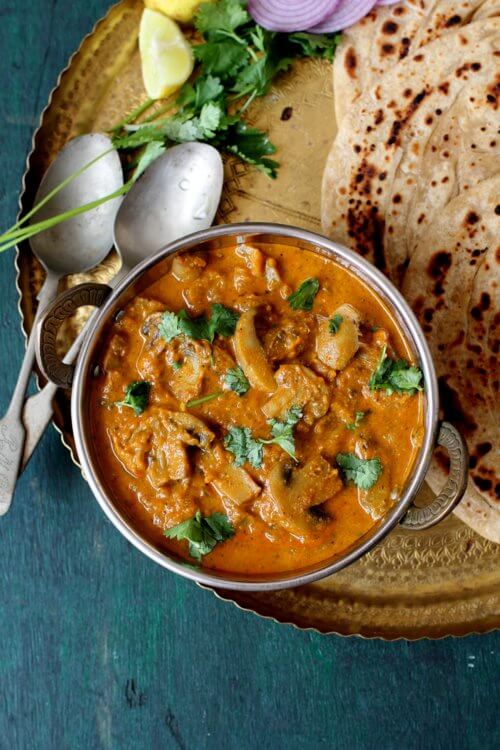 mushroom masala
I am sharing a comforting and extremely flavorful restaurant style mushroom masala curry that uses simple ingredients. A pretty straight forward recipe that's easy to make for even newbie cooks or bachelor cooks. In most Indian restaurants you will find that this Indian vegetarian dish is very popular and usually served with butter naan, kulcha, lachcha paratha or any flavored pulao. Its silky creaminess with alluring looks and delectable taste is sure to warm up your soul.
We can make many variations of mushroom masala curry by tweaking a few ingredients and spices. In today's recipe of mushroom masala, sliced mushrooms are sauteed before being simmered in a subtly spiced, creamy sauce that has an absolutely addictive flavor. Basically we begin by browning chopped onions, minced ginger, garlic and green chilis and grind this mixture to a paste which lends body to the curry. The ground paste is sauteed along with blanched tomato puree and mildly spiced with dry roasted aromatic spices like black pepper, cloves and cinnamon.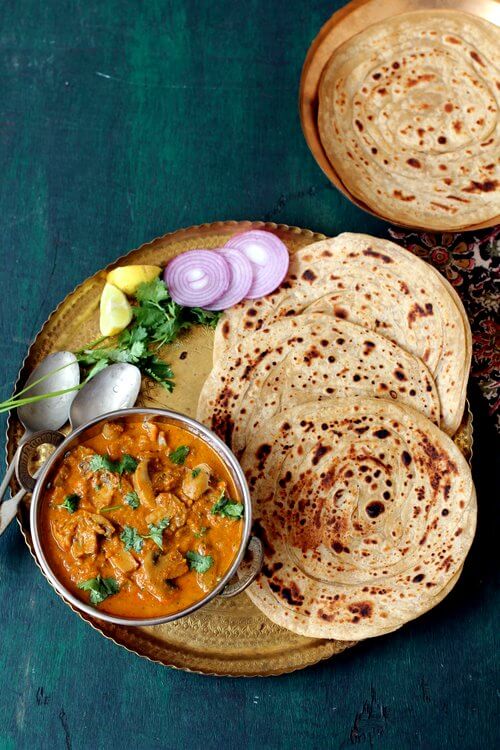 mushroom masala gravy with lachcha paratha
Very few spices go into it and the main secret ingredient that gives the dish its creamy texture is cashew nuts. I soaked the cashew nuts in warm milk before blending it to a smooth paste and added it towards the end of the cooking process. Coriander leaves lend a fresh flavor and color to this vibrantly colored mushroom masala gravy dish. Vegans can avoid milk and replace it with normal water or coconut milk. You can serve mushroom masala gravy with chapathi, naan, pulao and biryani. I served it with lachcha paratha and it made for an appetizing, warming meal.
Do give mushroom masala curry a try and you are sure to get mesmerized with its delicious taste and the ease of the curry preparation will see you making it quite often in your kitchen. You should be adding this vegetarian delight to your Indian food recipes repertoire!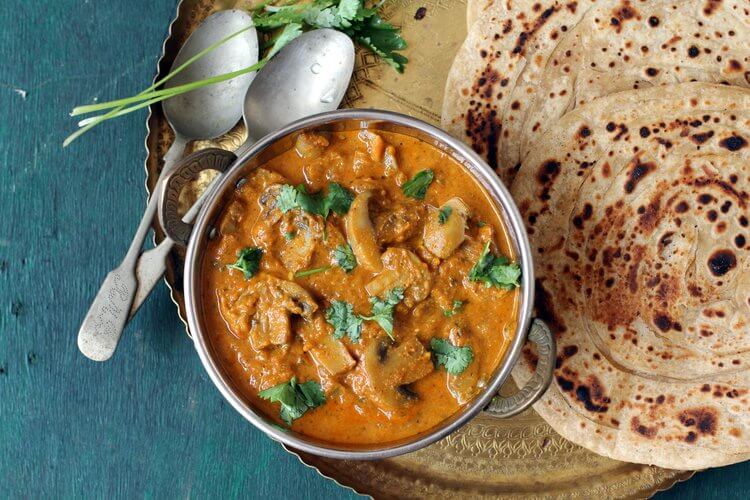 mushroom masala recipe
If you are a fan of mushrooms, you can check out mushroom recipes that include mushroom pepper fry, mushroom fried rice and mushroom fry indian style.
Learn how to make mushroom masala recipe