Mango falooda recipe, an easy, delicious, chilled layered dessert beverage made with mango puree, falooda noodles, basil seeds, mango ice cream & nuts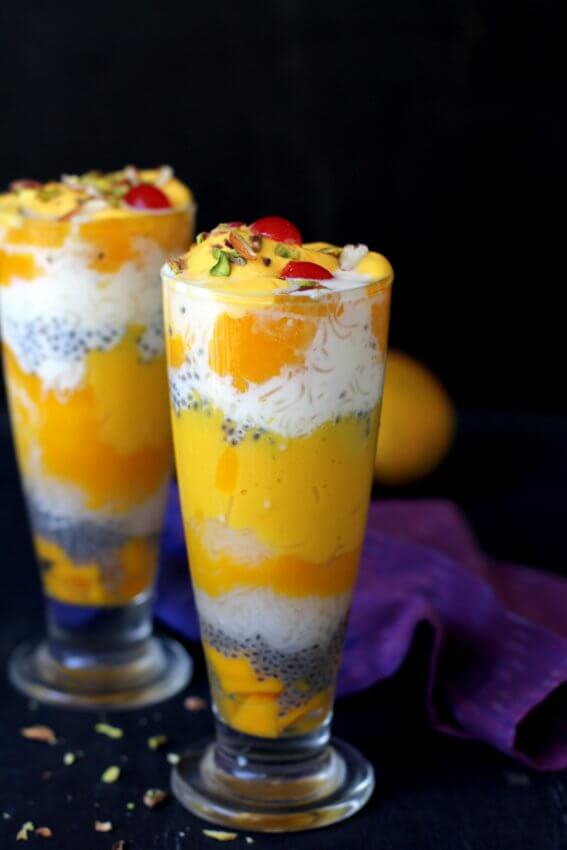 mango falooda recipe
Mango falooda recipe is one of the easiest chilled Indian desserts one can whip up during the hot summer season when mangoes are available in abundance. It is a chilled dessert beverage with incredible flavor, texture and color. The authentic or traditional falooda which has its origins in Persia calls for the use of rose syrup, falooda sev or thin vermicelli noodles, basil or tukmaria seeds and chopped nuts. You can play around with the flavors by using mango, paan, banana, pineapple, saffron or kesar, strawberry, mixed fruits or chocolate. It's the mango season and I have a lot fresh mango puree that I am putting to use in chilled desserts like eggless mango pudding and mango sago pudding Indian sweets like mango sandesh and mango phirni.
Last week, I made mango falooda on a hot sultry day. Relishing on this chilled dessert was like manna from heaven. There are two methods to prepare mango faluda. One method involves the use of mango jelly cubes and mango custard while the other method involves the use of fresh mango puree and reduced milk or rabri. I have followed the latter method which I found simpler. I am sharing the easy mango falooda recipe where everything is made from scratch except mango ice cream which is store bought. I have also blogged homemade mango ice cream recipe earlier. So if you are looking at making the ice cream at home, do follow that no fail recipe.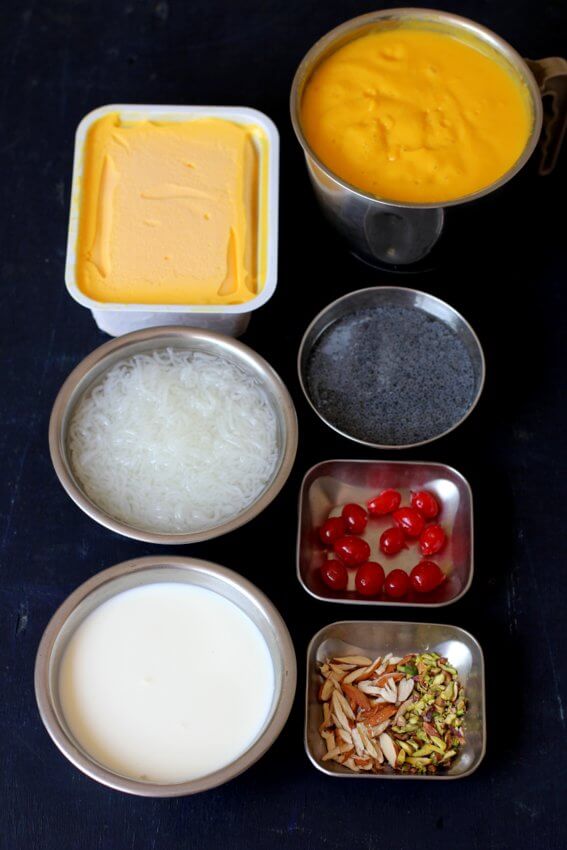 mango faluda ingredients
Recipe of mango faluda is extremely easy to make from scratch at home. The falooda ingredients include chilled sweetened reduced milk, falooda sev, bloomed basil or sabja seeds, sweetened mango puree, mango ice cream and chopped nuts. I have already posted how to make falooda sev or falooda vermicelli at home as well as the authentic falooda recipe. You can use store bought falooda sev too. The process I follow to make falooda at home is to soak the basil seeds first and then put the milk to boil. While the milk is simmering away, I prepare falooda sev and refrigerate it. Then I make the sweetened mango puree, refrigerate it and chop the nuts. I bring the milk to room temperature by place it in a bowl of water before refrigerating it. I also refrigerate the falooda glasses before layering the mango falooda in them. The entire preparation work including refrigeration and layering the chilled mango faluda takes me nearly 90 minutes.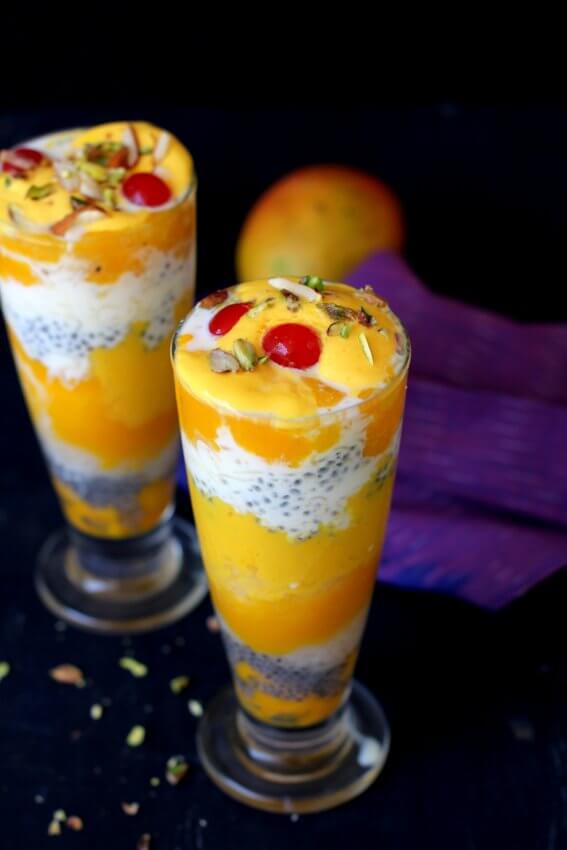 mango falooda
Nothing to beat the flavor of homemade mango falooda. Refreshing, delicious and comforting mango dessert in a glass!
How to make mango falooda at home