Mango pudding recipe, an easy to make, delicious, eggless mango dessert made with agar agar, milk, mango puree and sugar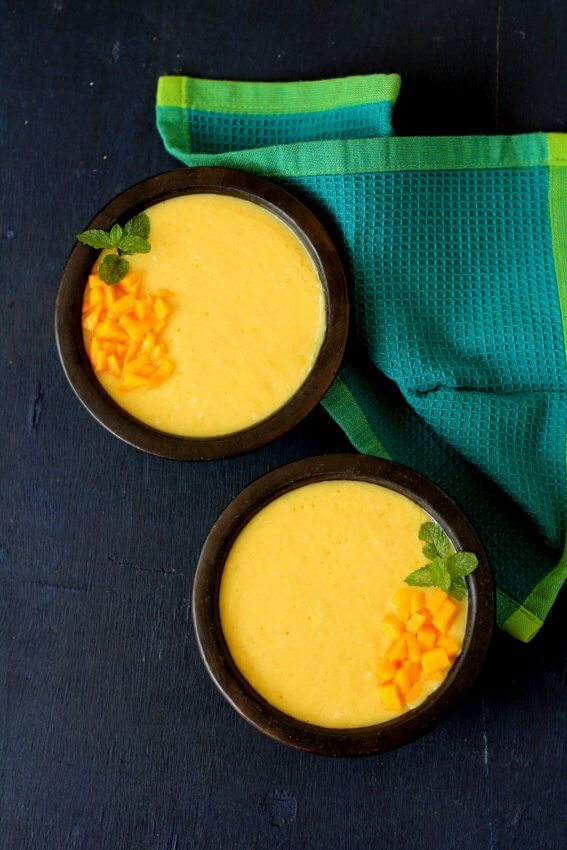 mango pudding
Mango pudding is one of the easiest mango dessert recipes that even a 10-year-old can make. I am yet to met someone who doesn't relish the king of fruits. I can eat it in any form, any time of the day and I like to make a lot of mangolicious recipes before the season ends. In continuation with my mango mania series, I present to you a wonderful mango based dessert. Quick to make, minimal ingredients and super yummy. There is nothing more pleasurable than digging into a bowl of chilled pudding especially a fruit based one like mango pudding. Heavenly on hot summer day!
I am going the eggless way with the mango pudding recipe. Agar agar or china grass is the vegan option instead of eggs or gelatin. You can use the strips or powder form of agar agar. You will find agar agar aka china grass in any major departmental store in your city or an online grocery store. Ripe mangoes with a soft flesh with less fibre works best for this pudding. Suvarnarekha, rasalu, banganapalli, alphonso, kesar varieties are ideal for most mango desserts recipes.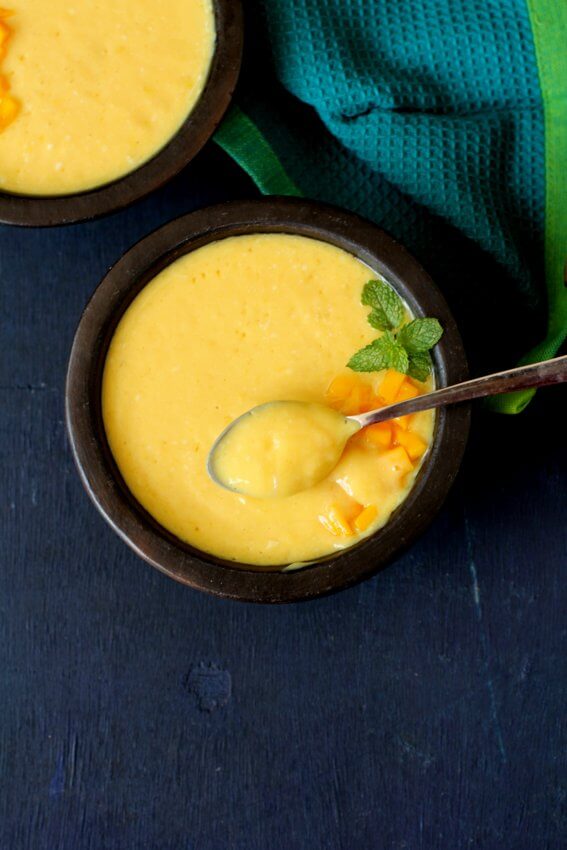 eggless mango pudding
I have followed a very simple mango pudding recipe that uses skimmed milk and minimal sugar. It is not a rich or overly sweet pudding. There is minimal use of sugar or honey since mango provides the aroma and natural sweetness to this dessert. The texture is more of a cross between a thick pudding and a runny sauce. A very soft pudding with melt in the mouth texture. Soft, creamy, tropical and decadent dessert for those who love mangoes and have a sweet tooth. I like to garnish the pudding with chopped mango for that intense mango flavor. You can add soaked sabja (basil seeds) or chopped nuts for some crunch. Mango pudding made with agar agar is gluten free and can be easily made vegan by using coconut milk instead of milk. Mango pudding with coconut milk is delicious too.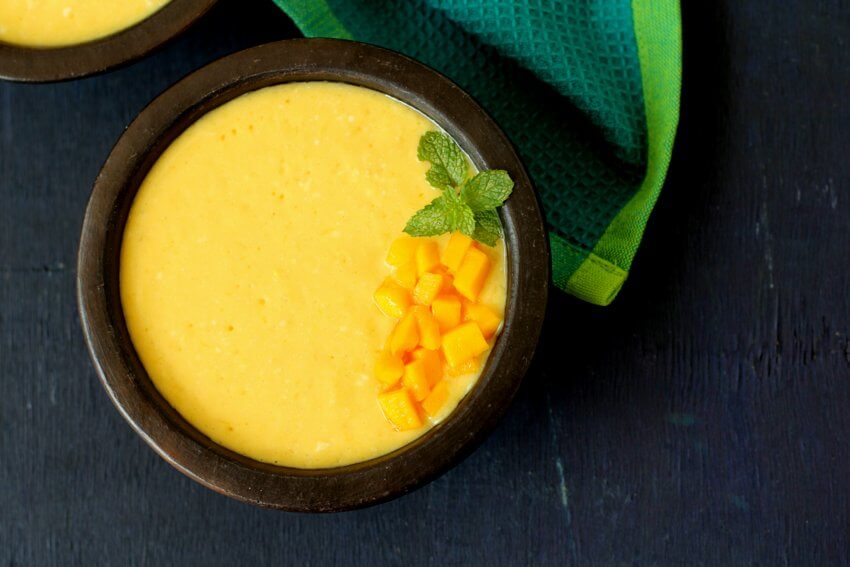 mango pudding with agar agar
A perfect go-to dessert during the summer season when mangoes are available abundantly. Serve the mango pudding in shot glasses for your parties or get together and it is sure to be a hit.
How to make mango pudding recipe