Strawberry pudding recipe, an eggless, creamy dessert made with fresh strawberries and china grass or agar agar perfect for Valentine's day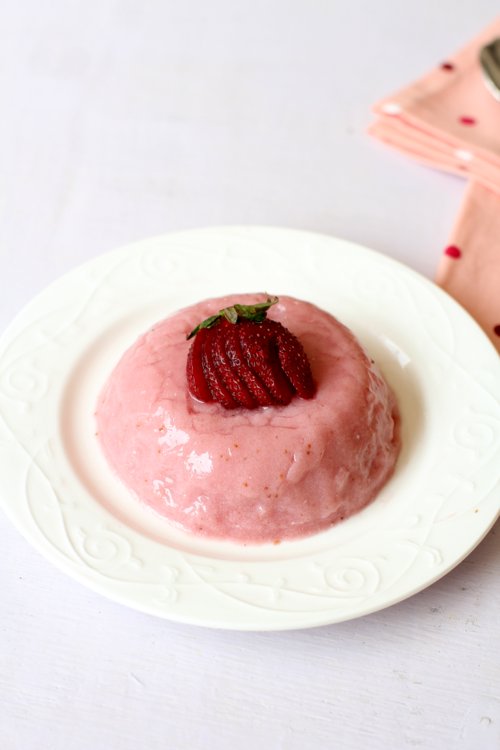 strawberry pudding
Strawberry pudding was the dessert of choice for Valentine's day this year. I love the pink tone and the sweet-tart flavor of strawberries and wanted to put them to good use before they disappeared from the local market. Minimal ingredients, ease of preparation and eggless is what got me going with this strawberry pudding recipe. Perfect for any special occasion, this smooth, silky and decadent pudding is comfort food at its best.
I do not like to use store bought instant pudding mixes since I can make a pudding from scratch using fresh ingredients. Yes, strawberry pudding from scratch that's homemade is way better than the store bought mixes. I have used low fat milk and agar agar aka china grass instead of gelatin. The low fat milk can be substituted with whole fat milk for a richer pudding. This fruity dessert is light without being overly sweet with an incredible silky texture similar to the strawberry phirni I had posted earlier.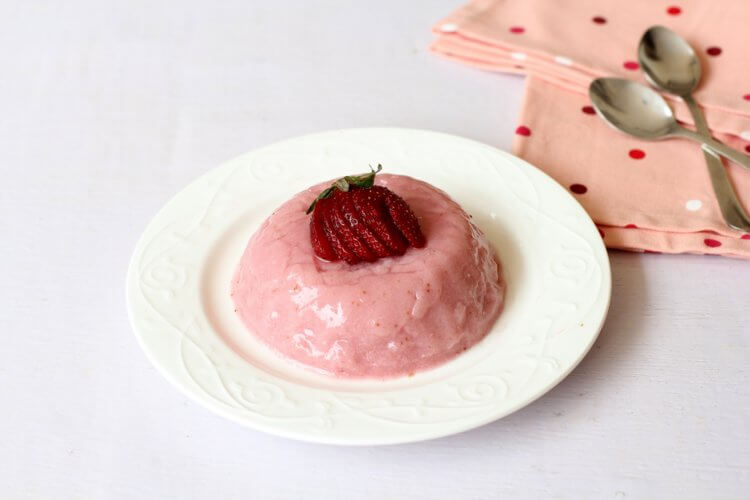 eggless strawberry pudding recipe
This strawberry pudding recipe serves four individual servings and perfect for an after dinner or after school treat too. Just have to plan ahead since you need to set and refrigerator it for a couple of hours to allow the flavors to meld. At the time of serving, you can go with any topping of your choice like strawberry syrup, whipped cream or chopped fresh strawberry. Each mouthful is smooth, velvety and delightful with slight tartness from the fresh strawberries. A kid friendly dessert that is easy, eggless and outright delicious! One of the best eggless pudding recipes out there and one that should go into your dessert recipes repertoire.
If you love strawberries and looking out for strawberry recipes, do check out this awesome strawberry cupcakes recipe.
Learn how to make strawberry pudding recipe from scratch with china grass aka agar agar