Continuing on the food trail series, today we have Shn of MishMash share with us two traditional Kerala snacks and a comprehensive article on Kerala snacks. Shn's blog is home to authentic Kerala recipes and to learn about the typical Kerala traditional Sadya feast, one must visit Mishmash. Shn meticulously crafted many a Kerala authentic thali fare which makes for a delightful read on the culture, customs and eating habits of Malayalis. Her recipes with detailed explanations and presentation of the food is breathtaking. Thank you, Shn, for taking time to share with us a wonderful article on Kerala snacks. Dear readers, please give a warm welcome to Shn. 🙂
~Sailaja
Munchies from a Kerala home ……
From the day I stepped outside Kerala and started meeting my other fellow Indians from different parts of the country, I have always been posed with the standard question, "Where are you from?". The moment I utter the name of my home-state, most of the time I see their faces glowing with excitement and the next thing I hear is this, " Oh…I love that red fish curry.." OR "Do you make Puttu?" OR "Kerala chips are my favourite…can you bring some next time when you go home? " OR "those Appam you get in Kerala is soooo soft". It is a pleasure to be in such proud moments to sink into the realization that Kerala cuisine is a favorite with many and it is well known too. True, these are iconic foods associated with Kerala cuisine and if you give a Google search on the same, you will come across many sites waxing eloquently about our traditional vegetable feast, Sadya or the fiery red fish curry or the pan-roasted fish delicacy wrapped in banana leaves called Meen Pollichathu or the aromatic Malabar Biryani or the spicy meat preparation like Beef Fry or the lacy-fluffy Palappam served with a delightful creamy stew.
I admit these are the scrumptious heroes and heroines of our cuisine and they get all the attention but like the other supporting actors in a movie, we have a carnival of Palahaaram aka snacks, both sweet and savoury, that do not gain such a glare of publicity. Hence, when Sailaja asked me do a small fragment on Kerala cuisine I grew up with, I considered it an opportunity to introduce you to some of the traditional Kerala snacks I am familiar with.
Most of the evening snacks or Naalumani palahaaram as we call it, that I relished during my childhood and teens is the steamed delicacies like Ela Ada which is rice flour envelopes made of rice flour dough and stuffed with sweet or savory fillings; Kozhukkatta, another variation of this, is steamed dumplings usually stuffed with a sweet filling of grated coconut, nuts and raisins with a subtle touch of crushed cardamom. Another very authentic snack that tickled my palatal pleasures is the tasty and fragrant Kumbil Appam, where the jackfruit preserve, Chakkavaratti is mixed with rice flour and coconut to form soft dough, that is wrapped in small quantities, with a native variety of leaf called Vazhana ela and them steamed to perfection. Keralites find solace in coconut and rice flour which is well reflected in a very humble snack called Kanji Pidi and Vattayappam, steamed round rice cakes. A couple of my other favourite evening snacks include Muttakuzhappam, crepes rolled and filled with sweetened grated coconut mixture and the unassuming Aval Nanachathu, beaten rice mixed with sweetened grated coconut.
Ripe plantains is our another weakness. The steamed ripe plantains, Pazham Puzhungiyathu laced with a drizzle of ghee and a sprinkle of sugar…hmm …it is divine! Sliced ripe plantains roasted in ghee and sprinkled with sugar, Pazham Vazhattiyathu is another gastronomic pleasure and so is Pazham Nirachathu, steamed ripe plantains stuffed with sweetened coconut filling and then roasted in ghee.
We have a pleasant obsession with boiled tapioca, Kappa Puzhungiyathu which is often served with a very simple Ulli Chammanthi, a condiment with crushed shallots and green chillies with a dash of coconut oil and a touch of tamarind and serve this with a cup of tea or coffee and you call it simplicity at its best!
As much as we love our healthy steamed delicacies, we have a passion for deep fried snacks and most of the time they adorn the glass shelves of small tea shops locally called Chaayakkada. In one of such shops, it is easy to find the quintessential Pazhampori, ripe plantain fritters; Sukhian, a mixture of cooked green grams sweetened with melted jaggery dipped into a flour batter and deep fried; Bonda, mashed and spiced up potato fritters; deep fried lentil dumplings like Uzhunnu Vada and Parippu Vada; Neyyappam, a rice flour and melted jaggery batter deep fried in ghee; Unniyappam, mashed banana, rice flour, jaggery hand mixed into thick batter and poured into an aebleskiver pan and deep fried. When you travel on the northern side of Kerala, try to get a taste of Unnakkayee – mashed banana shaped into cotton pods, stuffed with sweet or savory filling and deep fried; Arikkadkukka – mussels with a mildly spiced rice paste, steamed and then deep fried. Some of the other Northern snacks that I should mention here is the Kalthappam which is a steamed cake cooked from a mixture of ground rice, jaggery and dressed up with small coconut slices and shallots. Towards the southern tip of Kerala, you may find snacks like Munthirikothu, Mothagam etc which are again the regional versions of fried fritters with lentils, coconut bits and melted jaggery.
Kerala's signature crispy treats include raw plantain chips called Varutha Upperi which looks like small round golden disks sizzling in hot oil while frying; Sarakkaravaratti, thick unripe plantain quarters fried in oil, then coated with jaggery syrup, with a dash of powdered dry ginger, cumin and cardamom; other celebrities are Chakka varuthathu, jackfruit chips, kappa chips – tapioca chips and Chena Varuthathu (yam chips). Other popular traditional crispy and crunchy treats are Pappadavada, which is Pappadam aka Kerala wafers dipped in a lightly spiced flour batter and deep fried, Achappam, rose cookies made of a loose batter of rice flour, coconut milk, black sesame seeds and cumin seeds and deep fried in coconut oil; Kuzhalappam, thin flat rice bread dipped in batter and deep fried; Murukku, in the shape of small coils fried from a rice paste and the spicy crunchy Kerala mixture, a type of fried noodle mixed with peanuts, fried curry leaves etc.
It would not be fair on my part if I don't mention some of the very humble yet rustic homemade snacks which involves lot of time and effort and they are Ariunda – roasted rice, hand pounded and mixed with grated coconut and sweetened with jaggery and shaped into balls, Andi Unda – a ball of pounded cashew nuts prepared in the same fashion of Ariyunda; the grainy Avalose podi and small ball shaped Avalose Unda made from Avalose podi.
As much as we love our old world traditional snacks, we love our new era snacks like Cutlets – meat or vegetable croquettes; flaky meat or vegetable puffs; Samosa, a triangular shaped pastry with vegetable or meat fillings; meat rolls and fish packets.
These are some of the traditional Kerala snacks I am familiar with and please note that there are many other regional varieties which I am not aware of. I have chosen two recipes to share with you, the humble Ariyunda and the celebrity snack, pazhampori.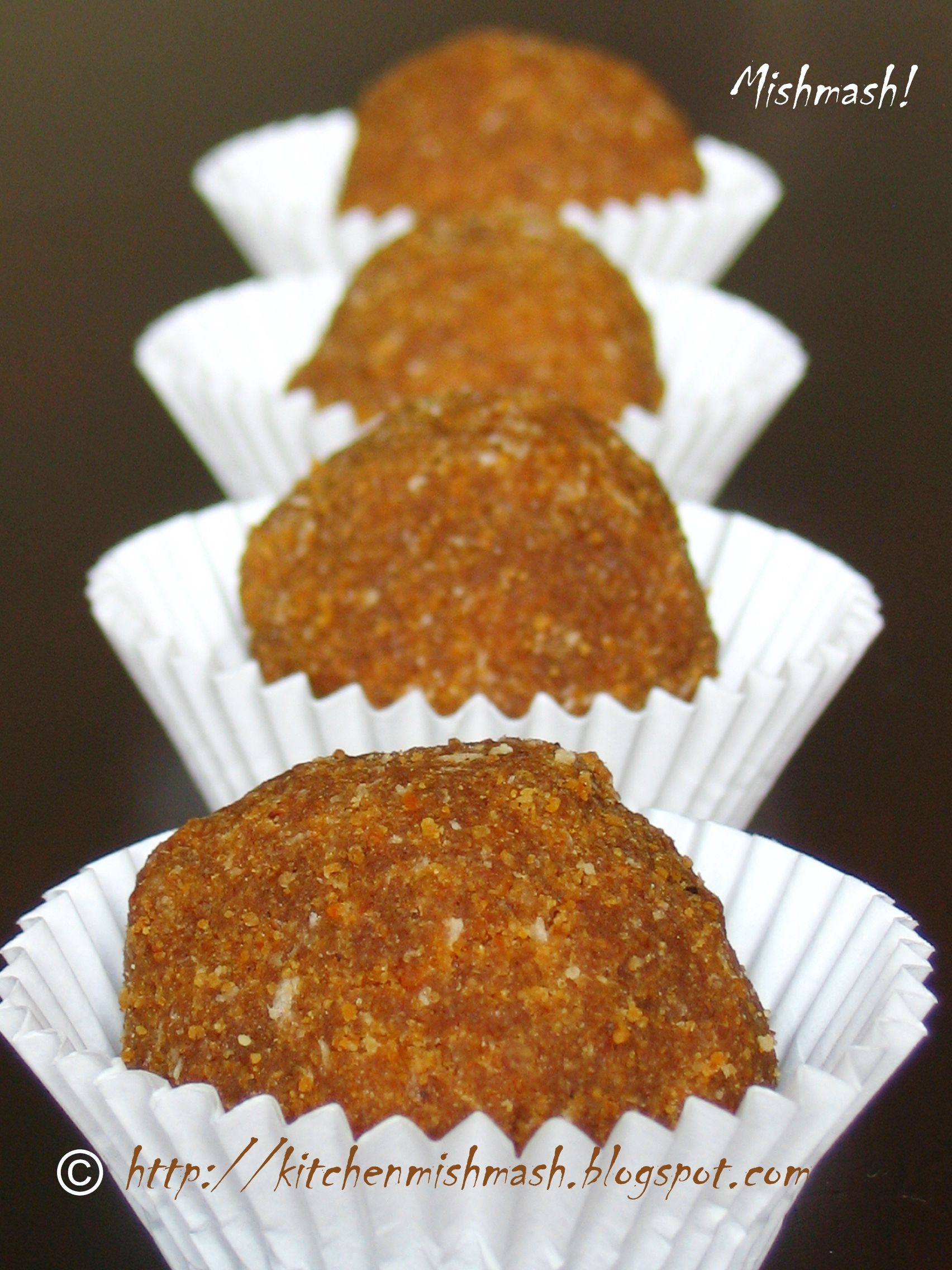 Ariyunda is one of my favourite snacks my grandma made and packed for us whenever she visited us or we returned home after a long stay at her place. It was an ideal snack for munching that made us take a quick peep into the Palahaara-paathram aka 'snack dubbas' whenever we wandered lazily through the kitchen after watching television for long or reading a book. Traditionally it is made by roasting the rice which then hand pounded and ground into a fine powder, using 'Ural & Ulakka', the bigger versions of modern tabletop mortar and pestle, which is going extinct from most of the Kerala kitchens these days. The powdered roasted rice was then pounded with grated coconut and jaggery and then shaped into small balls. Though it was a physically challenging work to manually pound rice until it transforms into superfine granules, hand pounding made a world of difference. Both my maternal grandma and women at the paternal side resorted to preparing these humble snacks, on a breezy afternoon pounding rhythmically and chit-chatting with each other. It was music to ears when they pounded it with so much of rhythm and fireworks for palate when they were done!
It may take only less than 30 minutes for me to recreate this dish in my small kitchen, but the taste is not as superior as the ones grandma made. One of the key ingredients is grated coconut and it has to be fresh and moist and hand pounding enables the juice and oil components of the freshly grated coconut to ooze out, helping all the ingredients hold together and even brings out even the subtle flavours that cannot be achieved with an electric grinder. Since it is one of those snacks embossed with the homemade element, I have seen many families serving this snack for guests visiting on the previous days of marriage. If you are a lucky traveler visiting Kerala, you may find them stacked in glass jars at small roadside shops, Pettikkada as most of the time women of the house prepare these humble snacks with inexpensive and readily available ingredients at home and the next day men folks take it to shop for selling.
Let me share with all of you a recipe for Ariyunda from my grandma's kitchen for temporarily satisfying your curiosity and palate, until you make a visit to Kerala. 🙂
Recipe for Ariyunda:
Ingredients:
• ¾ cup Kerala rosematta rice
• ½ cup grated jaggery
• ½ to ¾ cup freshly grated coconut
• 3 tbsp cashew nuts
• 2 tbsp ghee
• 2 cardamom pods crushed
Directions:
• Heat a Kadai/Cheenachatti or a stainless steel pan, and roast the rice, in medium heat, until the rice starts splitting and changes its colour. Reduce the heat to low if required and keep stirring, especially when you hear the splitting sound and continue to roast until the full batch of rice is uniform in colour and shrink a bit from its original size. Remove this to a grinder/mixer/blender
• In the same pan, heat ghee and roast cashew nuts until they reach golden brown and keep this aside.
• Grind the roasted rice into a fine powder and transfer it to a bowl.
• In the same grinder bowl, add cashew nuts and powder it. To this add freshly grated coconut and jaggery and grind for less than a minute or till everything is blended together. Now add the crushed cardamom seeds, finely ground roasted rice powder and leftover ghee, if any, after roasting cashew nuts and whirl everything together until it is thoroughly combined. Transfer the entire mixture to a bowl. Take a fistful of the mixture and shape into a small ball, making the surface as smooth as you can. This yields around 10-11 Ariyunda and you can store it in an airtight container for up to a week and do refrigerate if you want to store it for more than that. Note: You may notice some white specks on my Ariyunda and that is because I added some more grated coconut towards the end and did not get blended well. Though it is a negligible part, refrain from making the mistake I made J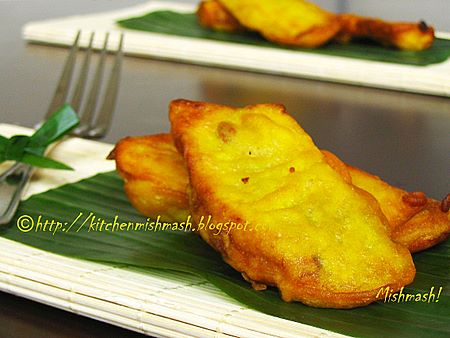 When you make a list of things you should do on your culinary travel in Kerala, then Pazhampori has to find a place in your list! I would say, it is one of those iconic foods in Kerala cuisine. It is deep fried goodness made with a native variety of Kerala banana called Eathappazham or Nenthrappazham which are ripe plantains. The natural sweetness from the ripe plantains, when coated with a flour batter flavored with fragrance seeping out of the crushed cardamoms and deep fried in distinctly flavorful and aromatic coconut oil, is sure enough to take you till the doors of heaven! A bite into this warm, crispy yet soft delicacy, accompanied by a sip of hot tea or coffee is something that every Keralite loves to relish after a long day or on a rainy day or even as a mid-morning/evening snack.
Pazhampori is ubiquitous in Kerala. Since this particular variety of plantain is bountiful and abundant, men and women in charge of kitchen grab the frying pan and bunch of ripe plantains at the same breath, whenever we have some impromptu guests. Even when it is a pre-planned function, we have a soft spot for Pazhampori. In some places, because of the regional differences, it is also called as Eathakkaappam.
The taste of the Pazhampori made with the native variety available in Kerala is incomparable yet the ones made with the regular ripe plantains are also scrumptious. The only criterion is to look for fully ripe sweet plantains. The flour batter can be made with rice flour or wheat flour or all-purpose flour or even a combination of two types; some add beaten egg or baking powder to give an added texture to the outer covering. I prefer my mother's simple recipe as it always gives me perfect crispy, soft and definitely not soggy, Pazhampori.

Recipe for Pazhampori/Kerala Banana Fritters
Ingredients:
• 3 fully ripe plantains/Kerala Banana/Nethrappazham/Ethappazham
• ¾ cup rice flour
• ¼ cup all purpose flour/Maida
• 2 cardamom pods crushed
• 3 tbsp sugar
• Around ½ tsp turmeric powder
• 1 ¼ cup water
• Oil for deep frying
Directions:
• Make a batter by mixing rice flour, all purpose flour, turmeric powder and sugar with water; finally flavour it with crushed cardamoms and mix well into a smooth batter without any lumps.
• Diagonally slice ripe plantains into thin discs of around 3-4 inches length.
• Heat oil in a deep frying pot, in medium heat and when the oil is hot enough, dip diagonally cut banana slices into the batter and coat the fruit well; slide these batter dipped fruit into the hot oil and deep fry, occasionally flipping each side till the edges start to brown. Using a slotted spoon, remove from the frying pan and strain it on a paper towel, to remove the excess oil. Continue frying other banana slices the same way without over crowding the pan. Serve hot with a cup of tea or coffee.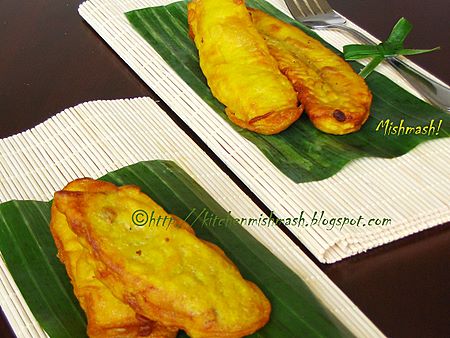 When you are in Kerala, please be sure to visit one of those unpretentious small tea-shops called Chaayakkada or the omnipresent road side eateries called, Thattukada or a small scale restaurant and you will find Pazhampori in a different shape. They usually serve the long Pazhampori, like the ones on the right side in the above picture, instead of the small diagonally or vertically sliced ones prepared at homes. If you travel by train, then you are sure to catch this variety almost at every platform. To recreate that at home, thinly slice a ripe plantain lengthwise and dip it in batter and deep fry in oil. You can make around 3-4 long ones from one ripe plantain.
I hope the readers of this blog enjoy these Kerala snacks and if you have any doubt, please drop your query at the comment section. These are very easy ones; I hope you try making them at home.
My heartfelt thanks to Sailaja for inviting as well encouraging me to write this article and introduce you all to a bunch of our culinary gems. 🙂
Thanks!
Shn
Article, recipes and images – Shn
Earlier on Indian Food Trail
Maharastra
A Simple Summer Meal by Nupur
Traditional Maharashtrian Thalis – Veg & Non-Veg by Meera
Traditional Maharastrian Sweet & Snacks by Meera
Konkan Region – North Canara
An Essay on Konkani Cuisine by Shilpa