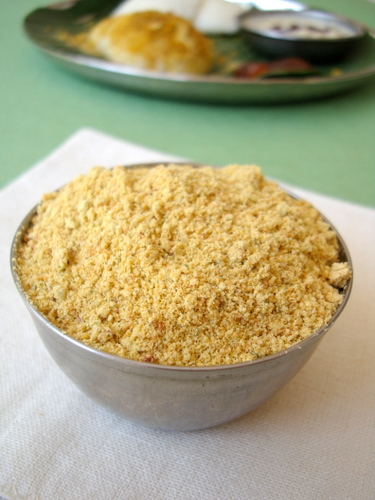 Milagai Podi
I'm a podi freak. I have mentioned that in one of my earlier posts as well. I keep trying various podi recipes that have their origins in different regions of South India. One such podi that is aromatic with a unique flavor is Milagai Podi. The secret ingredient here is roasted sesame seeds. Sprinkle some of this magic spice powder over dosas or idlis along with a generous drizzle of gingelly oil or ghee and you are assured of a trip to heaven. 🙂
Milagai Podi Recipe
Preparation: 20 minutes
Cuisine: South Indian
.
Ingredients:
1 1/2 tsps oil/ghee for roasting the dals and spices
1 cup bengal gram dal/senaga pappu
1/2 cup black gram dal/minappapu
1/2 tbsp black pepper corns
12 dried red chillies
2 tbsps sesame seeds, dry roast for 3 mts
fistful of peanuts, dry roast for 5-6 mts (optional)
1/2 tsp hing/asafoetida/inguva
salt to taste
1 Drizzle oil in a heavy bottomed vessel and roast the channa dal on low to medium heat for 4 mts. Add split gram dal, pepper corns and dry red chilies and continue to roast till the dals release their flavor and turn golden. Finally, add asafoetida and lightly roast for few seconds and turn off heat. Remove onto a plate and cool.
2 Place the cooled dals and spices along with salt, dry roasted sesame seeds and peanuts in a blender and grind to make a coarse powder.
3 Store in an air tight container and serve with South Indian tiffins like dosas and idlis with a generous helping of ghee or oil.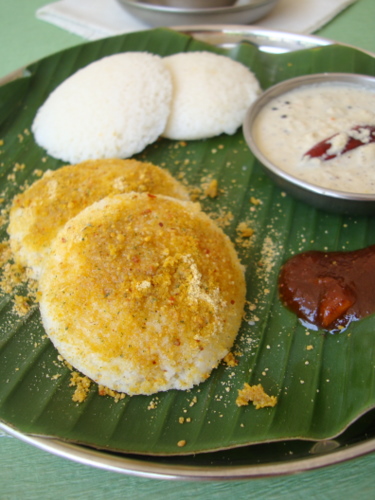 Idli with Milagai Podi, Sweet Ginger Chutney and Coconut Pachadi