I used the left over chopped mixed vegetables from the baked vegetable jalfrazi, to prepare Mexican rice. The recipe is by no means authentic. I liked the flavors of cumin, tomato sauce and worchestershire sauce mingle with the vegetables and rice. The recipe calls for cheese and cream which I avoided and served the cooked mexican rice from pot to plate alongside some potato wedges sprinkled with some mixed dried herbs. Makes for a hearty meal.
I am yet to re-create at home an authentic Mexican rice dish that I relished at a Mexican food festival. Friends, recipe or links to an authentic Mexican rice recipe that has been tried and tested would be highly appreciated.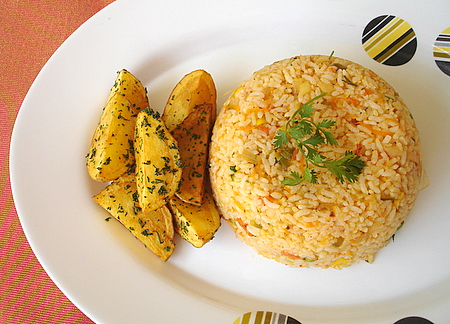 Mexican Rice Recipe
Prep & Cooking: 40 mts
Serves 4-5 persons
.
Ingredients:
2 cups raw rice, washed
1 1/2 tbsps oil (I used olive oil)
1 1/2 cups chopped mixed vegetables
fistful of corn kernels (optional)
3-4 cloves garlic
1/2 tsp red chilli flakes
3/4 tsp cumin pwd
3 tbsps worchestershire sauce
1 tsp balsamic vinegar
2-3 tbsps tomato sauce
2 tbsps chopped coriander leaves
2 tbsps grated cheese (optional)
salt to taste
1 Heat olive oil in a cooking vessel, on medium heat and add garlic and onions and saute for 3 mts. Add the chopped vegetables and corn kernels and saute for 5 mts.
2 Add the red chilli flakes, cumin pwd, tomato sauce, worchestershire sauce, balsamic vinegar and salt to taste. Combine.
3 Add the washed rice and saute with the rest of the ingredients for 4 mts.
4 Add 3 1/2 cups water and fresh coriander leaves and bring to a boil. Reduce flame to low and place lid. Cook the rice till done and do not stir inbetween. At this point, you can serve the rice as it is or you can place the cooked rice in a casserole, sprinkle cheese and bake for 10-12 mts in the oven). I served the rice without cheese.
5 Serve hot with potato wedges (boil potato wedges with skin and shallow fry in a skillet till nicely browned, sprinkle mixed dried herbs). Makes a complete meal.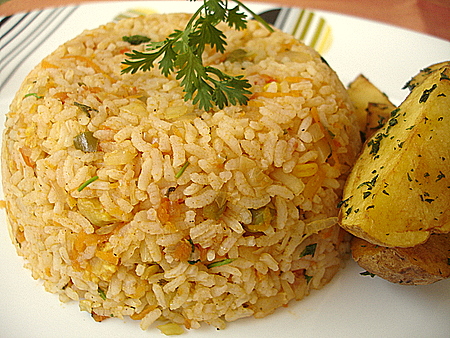 Mexican vegetable rice with potato wedges
Note:
Do visit this website for more information on Mexican recipes and cooking classes. The above recipe were originally prepared by Manju Sethia who also designed the taco maker.