Methi Matar Pulao
My love for methi has not diminished in spite of having an overdose these winter months. I am making optimum use of fresh methi during season since I will not be able to relish it during the summer months. Likewise with season fresh green peas. Fresh methi and matar decided on a date with rice. A match made in heaven. 🙂 Delightful aromatic pulao, with green peas popping beautifully against the greens and rice.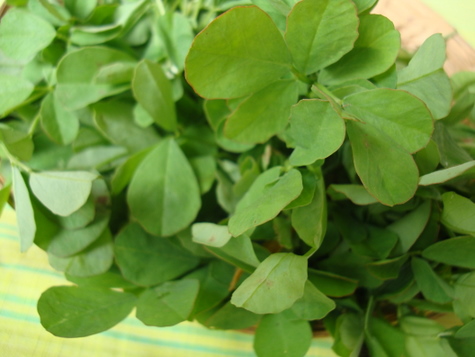 Fresh methi leaves, Fenugreek leaves, Menthu kura
Methi Matar Pulao Recipe
Prep & Cooking: 40 mts
Serves 4-5 persons
.
Ingredients:
2 cups basmati rice – washed and drained
1 1/2 tbsps ghee
2 green cardamoms
4 cloves
2" cinnamom stick
1 star anise
a bay leaf/biryani akku
1/2 tsp sugar
very small pinch nutmeg pwd
2 onions finely sliced
1/2 tbsp ginger-garlic-green chilli paste
1 cup fresh methi leaves
1/2 tbsp fresh coriander leaves, finely chopped
1/4 cup fresh green peas
3 3/4 cups water
salt to taste
1 Soak picked methi leaves in about 1/4 cup water, 1/2 tsp salt and a pinch of sugar for 15 mts. Strain water and squeeze leaves of water. This removes any bitterness of the leaves. Keep aside.
2 Heat ghee in a vessel, add bay leaf, cinnamon, cloves, caradamom, star anise and sugar and stir for a mt. Add the sliced onions, ginger-garlic-green chilli paste. Saute the onions till they turn transparent.
3 Add the coriander leaves and methi leaves and saute for 4 mts. Add the drained rice and green peas and saute for 2 mts.
4 Add water and bring to a boil. Add salt and nutmeg pwd and reduce heat to low-medium and cook covered with lid.
5 Once the rice is cooked, turn off heat. Serve warm with raita.