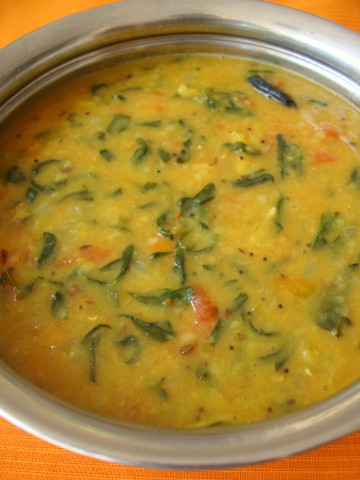 Menthu kura Pappu is a very nutritious Andhra dal dish that calls for the use of tur dal and fresh methi leaves.
1 cup packed menthu akkulu/menthu kura (fenugreek, methi) washed and picked
1 cup tur dal (kandi pappu, red gram)
1 medium sized onion chopped finely
1 tomato, finely chopped (optional)
4-5 green chillis slit length wise(indian variety)
1/3 tsp turmeric (pasupu)
2 whole dry red chillis(deseed and tear into pieces)
5 garlic flakes slightly crushed
1 tsp chopped ginger
10 curry leaves
1 tsp cumin seeds(jeera)
1/2 tsp mustard seeds (ria,aavaalu)
1 tsp salt
oil
chopped coriander leaves for garnish
2 cups water
Heat 1 tbsp oil in a sauce pan and add the mustard seeds and let them splutter.
Now add the cumin seeds, slightly crushed garlic, whole red chilli pieces and curry leaves and fry for a minute. This is called "Popu" or "Talimpu" in Telugu (Andhra). The tempering adds flavor to the dish.
Now add the chopped onions, chopped ginger and green chillis and fry for 2 minutes on medium heat. Add the chopped tomatoes and saute for 3 mts. Remove from heat.
Add this tempering mixture and turmeric to tur dal and add 2 cups of water in a pressure cooker.
Now add the washed and picked fenugreek leaves (menthu kura) on top and pressure cook upto till three to four whistles or until tur dal is soft.
Wait until the pressure is released and remove the lid.
Add salt to this cooked mixture and mash with ladle till well combined.
Garnish with coriander leaves.
Serve hot with rice and ghee, papad and vadiyaalu and you have a complete meal. You can also serve with rotis.
Absolutely nutritious and tasty dal.