Matar mushroom recipe, a creamy textured, restaurant style Indian mushroom gravy that makes for a delicious vegetarian dinner with naan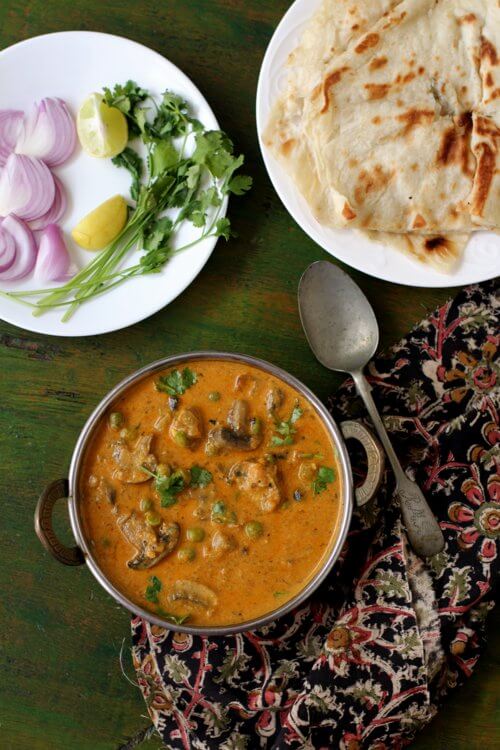 matar mushroom served with homemade naan
Matar mushroom curry is often made in our home as a side dish with chapati for dinner especially during the winter months when fresh peas are abundant. Fresh peas aka matar make for a great addition to paneer dishes like matar paneer and Indian style mushroom recipes. Each time I cook this vegetarian dish, I tweak the spices and ingredients that going into the making of matar mushroom recipe. I always end up with a refreshing, soothing and rich gravy that makes it my go to best mushroom dish for weekend dinner along with Indian flat breads like naan and chapati. You will enjoy the goodness of mushrooms and the flavor of green peas cooked in subtly spiced creamy curry. My family loves it and say its way better than any restaurant style matar mushroom curry.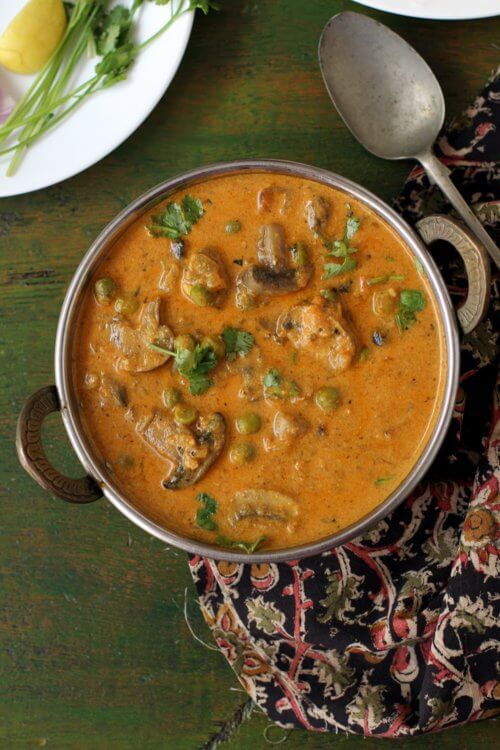 matar mushroom
The gravy or sauce in which the green peas and sauteed mushrooms are simmered holds the key to a great tasting dish. I have used cashew nuts and fresh cream which gives matar mushroom curry a smooth silky textured gravy and a rich flavor. Vegans can use coconut milk or cooked pumpkin puree instead of fresh cream.The only preparation work that takes a bit of your time is blanching tomatoes. You can use store bought tomato puree too.
If you want to serve this mushroom dish for a party, you can make the sauce or gravy, freeze it before hand and cook it in 15-20 minutes before your guests arrive. Few simple steps to follow are to roast the sliced mushrooms in ghee or butter till lightly browned and add it to the ready made sauce along with fresh green peas. Add some water and simmer for a few minutes before adding fresh cream. And before you know it, your matar mushroom sabzi is transformed into a delightful, flavorful curry.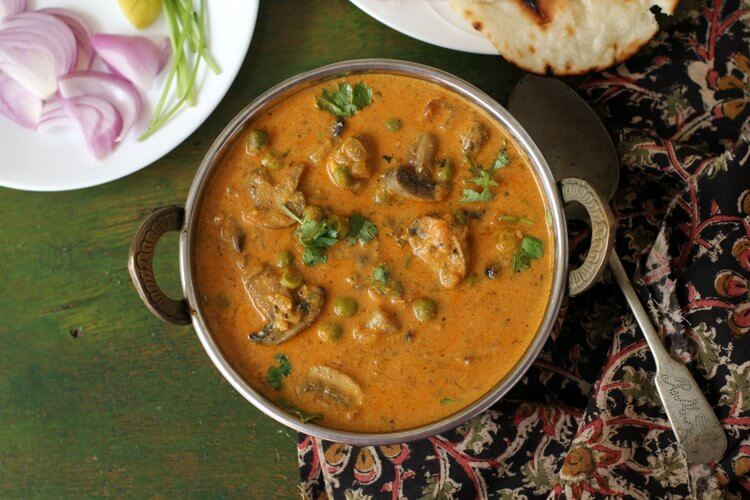 recipe of matar mushroom
One of the best recipes of matar mushroom that you should try, if you haven't yet. And don't forget to add to your list of Indian recipes using mushrooms.
Learn how to make matar mushroom recipe