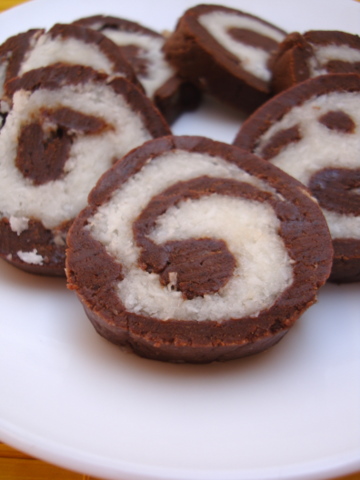 Marie Biscuits are our family's favorite tea time biscuits. There are numerous desserts one can make using them and today's recipe is a sweet treat that can be served in a get together or party. Eggless chocolate rolls, quick to make and delicious! Easy chocolate dessert that even a 12 year old can whip up in minutes.

Marie Biscuit Chocolate Rolls Recipe
Make a powder of 12-14 marie biscuits, add a tbsp of powdered sugar, 1 1/2 tbsps cocoa pwd and mix well. Slowly add few tbsps of milk, little at a time, to form a pliable dough (like chapati dough). Keep aside. In another bowl, add 1/4 cup dessicated coconut pwd, 1/2 cup powdered sugar, few drops of vanilla essence or pinch of cardamom pwd and mix well. Add 1 1/2 tbsps of melted butter and mix well to form a sticky textured mixture.
Roll the biscuit cocoa dough into an elongated shaped roti (thicker than a chapati). Spread the coconut-sugar mixture all over. Slowly roll the biscuit-cocoa roti to form a roll. Seal the ends and if the dough tends to break in between, lightly press to enclose and continue rolling. Wrap in an aluminum foil and set in fridge for 2 hrs. After its set, remove the foil and slice with a knife into 1/2″ thickness pieces and serve.