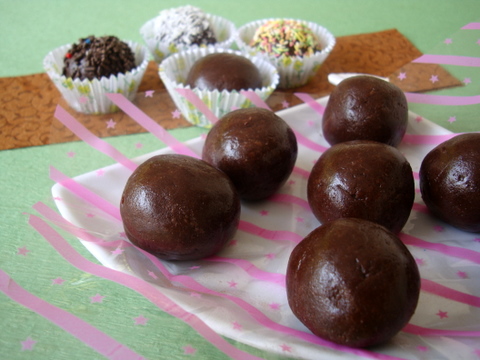 Marie Biscuit Choco Balls
We would relish these addictive marie biscuit chocolate wonders during our growing years. In recent past these impressive treats have re-appeared in my kitchen. For Nehal. 🙂 They are incredibly sweet, making them an ideal dessert for kiddy parties. You can add nuts for some crunch or decorate with granulated sugar, sprinkles or coconut flakes or top with M&M's/gems.
Marie Biscuits Choco Balls Recipe
Make a powder of 14-15 marie biscuits. Sieve and use the fine biscuit powder. Beat 1 1/2 tbsps butter till smooth. To this, add the biscuit powder, 2 tbsps cocoa pwd, 1 tbsp dessicated coconut pwd (optional), few drops of vanilla essence and 6-7 tbsps of condensed milk and combine well to form a smooth dough. Grease your fingers and palm with melted butter or ghee and roll into small balls. Keep aside. Roll the balls in sprinkles or dessicated coconut and serve. You can eat them plain too, the way I like them. OR place a glazed cherry in the center and form a ball of the chocolate dough.