Mango raita or aam ka raita, a tasty Indian relish or salad made with ripe mango, fresh yogurt or dahi and tempered with Indian spices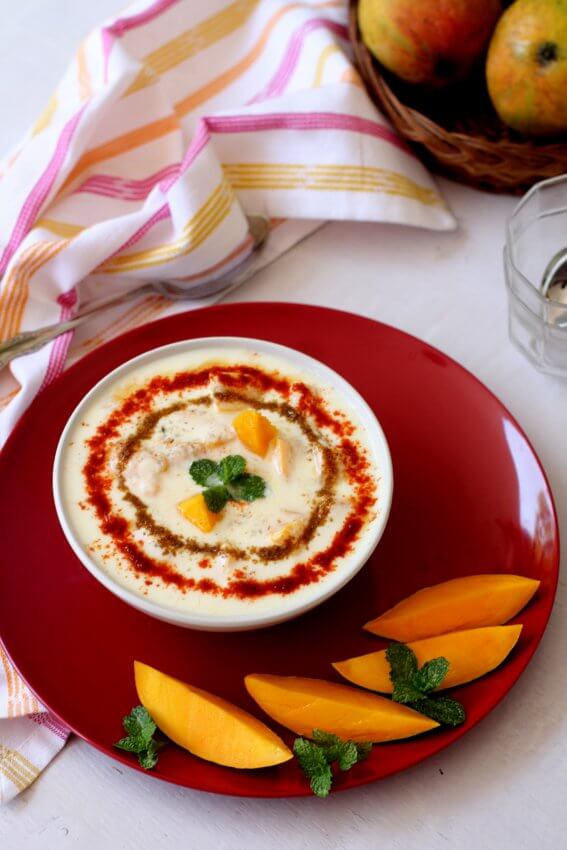 mango raita
Mango raita or aam ka raita is a classic Indian yogurt based relish, salad or condiment that is refreshing, filling and delicious. Mangoes are abundant from April to June which are the hottest days in India. Most homes prepare yogurt based dishes which are cooling and provide respite from the sultry weather. We have numerous raita varieties prepared with vegetables like cucumber, onion, tomato, carrot, beetroot, spinach, and fruits like pineapple, mango and savory boondi. Raita is very popular in Indian homes due to the probiotic benefits of yogurt, flavor and ease of cooking. In fact, there is no cooking involved in a majority of the raitas.
Sweet mango raita is a gem among fruit based raita recipes. There are two to three variations of ripe mango raita recipe and I am posting a version that is popular in my home. I make it often since it involves less time in the kitchen and makes for a meal by itself. In less than 5 minutes you have a delicious, fruity goodness in a bowl. 🙂
sweet mango raita
North Indian style mango raita preparation is simple, super quick with minimal ingredients. The spices used for flavoring the raita include red chili powder or cayenne, roasted cumin powder, chaat masala and black salt. Fresh mint or fresh coriander adds a fragrant and colorful touch to the raita. I love the chunky texture of mangoes blending with the velvety smooth texture of the beaten yogurt or curd. There is no tempering involved here like the South Indian style mamidipandu perugu pachadi recipe (sweet mango yogurt chutney) I posted yesterday. You can add a few pomegranate seeds for that pop of color and crunch. But its purely optional.
The chilled mango raita is light on the stomach, cooling, hydrating, healthy, and nutritious and makes for a perfect accompaniment to your everyday thali or meal. You can serve it as a refreshing side dish with any flavored rice or biryani. On a hot day, ripe mango dishes like aam ka raita, mango phirni, and aam ki lassi are like manna from heaven. Do try this treasured culinary gem this summer.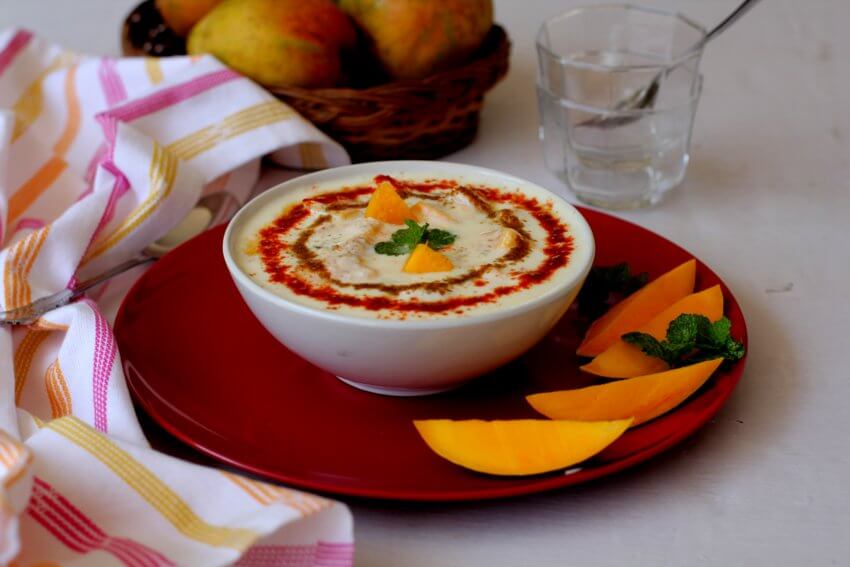 aam ka raita
You will find more mango dishes recipes Indian style in the blog.
How to make mango raita or aam ka raita