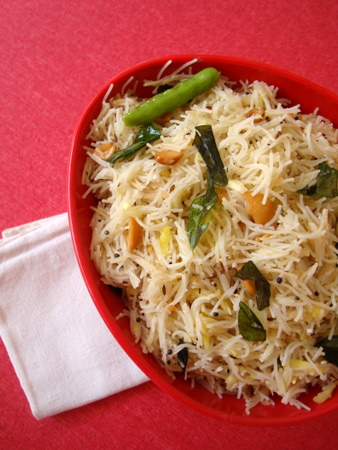 How about a savory breakfast with a tangy twist? Bursting with flavor and fragrant, our morning meal was delightful. With surplus raw mangoes at home, its been an overload of tangy goodness this past week. Mamidikaya (raw mango) Vermicelli Upma is quick and simple to prepare with few ingredients. For more spice increase the quantity of green chilies.
Mamidikaya Semiya Upma Recipe
Prep & Cooking Time: 30 mts
Serves 4-5 persons
Cuisine: South Indian
.
Ingredients:
1 1/2 cups vermicelli, roast in a tsp of ghee for 4-5 mts till golden brown
3-4 slit green chilies
1″ ginger finely chopped
3/4 cup grated raw mango (peeled)
10-12 cashew nuts, break into pieces
1/2 tbsp oil
1/2 tbsp ghee
salt
For seasoning:
1 tsp mustard seeds
1/2 tbsp split black gram
1/2″ cinnamon stick (optional)
12-15 curry leaves
1 Boil 4 cups of water and add the vermicelli along with 1/2 tsp salt and 1 tsp oil. Once the vermicelli is cooked (it should be just soft and not mushy), turn off heat, pour the vermicelli into a colander to drain completely and pour cold water over it and keep aside.
2 Heat oil and ghee in a cooking vessel, add the mustard seeds and let them splutter. Add the black gram, cinnamon stick, cashew nuts and curry leaves and saute till the dal and nuts turn slightly red and a nice aroma emanates the kitchen.
3 Add the green chilies and ginger and saute for few secs.
4 Add the grated raw mango and saute on medium heat for 3-4 mts. Add salt to taste (remember you have already added salt to the boiling vermicelli, so add accordingly).
5 Now, add the cooked semiya to the sauteed mango base and mix it lightly and see that no lumps form. Adjust salt.
6 Serve hot with chutney or pickle of your choice.
Note:
For variation, garnish with grated coconut.