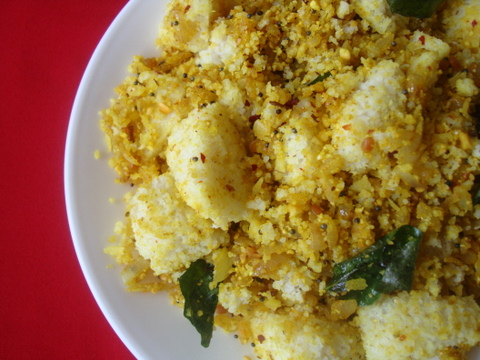 Nehal has recovered from a severe bout of flu and is doing good. Am I glad! Well, I am yet to recover from a severe throat infection. I have never been so sick in a long long time. With absolutely no appetite, I have been living off soups and rasam these past few days. I feel much better since the weekend. Hopefully should be back to my normal routine this week.
A quick breakfast/evening tiffin prepared with left over idlis for one of those not-feeling-good days. Similar to Idli Upma with a slight variation.
Left Over Idlis with Pappula Podi Recipe
Cooking: 10-12 mts
Cuisine: Andhra
.
Ingredients:
6 left over idlis, crumbled
1 onion, finely chopped
big pinch turmeric pwd
1/2 tsp coriander pwd
salt to taste
1/2 tbsp oil
Grind to a coarse pwd:
1/2 tbsp grated coconut
1 tbsp roasted gram dal/putnala pappu/dalia
2 dry red chillis, tear and de-seed
For tempering/poppu/tadka:
1/2 tsp mustard seeds
1 tsp urad dal/minappa pappu
pinch of asafoetida/hing/inguva
few curry leaves
1 Heat oil in a kadai, add mustard seeds and let them splutter. Add urad dal and let it turn red. Add curry leaves, asafoetida and turmeric pwd.
2 Add chopped onions and saute till they turn transparent. Add coriander pwd and combine. Add the ground roasted dal pwd and combine. Add the crumbled idlis and combine. Cook for a mt. Adjust salt, if required.