Kosambari is a simple moong dal salad popular in Karnataka and offered as neivedhyam to Lord Rama on the occasion of Sri Ram Navami festival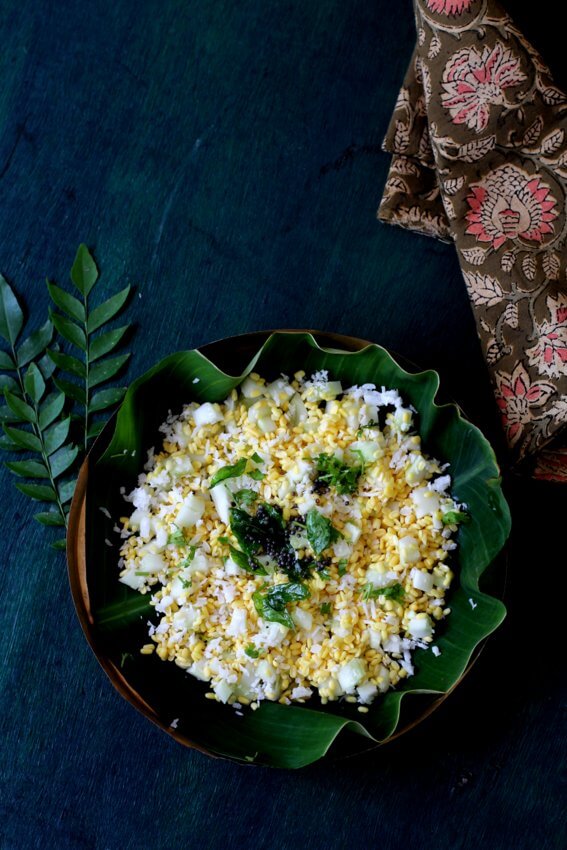 kosambari
Kosambari is a delicious, protein-packed lentil salad that is an integral part of Kannada cuisine. It is also popular as kosumalli or hesarubele kosambari and is part of every festive meal or wedding feast. In Andhra, it goes by the name vadapappu. On the occasion of Sri Ram Navami festival, we offer neer mor or majjiga and vadapappu panakam as neivedhyam to Lord Rama. It is also prepared during Navrati as fasting food. In Andhra, vadapappu is served along with chalimidi, a rice flour based sweet and offered to Lord Rama. Vadapappu is nothing but soaked moong dal while Kosambari is a salad comprising of soaked moong dal, cucumber, fresh coconut and coriander leaves. Undoubtedly festive, yet simple.
It is a light yet filling salad that can be eaten as a meal by itself along with a glass of neer mor or South Indian buttermilk. It is quick to make and very versatile in terms of the ingredients used. Basic moong dal salad recipe calls for soaked moong dal and cucumber. You can add grated carrot and raw mango too for variation. Soaking of moong dal makes it easily digestible and more nutritious. A perfect protein rich salad for those looking to lose weight.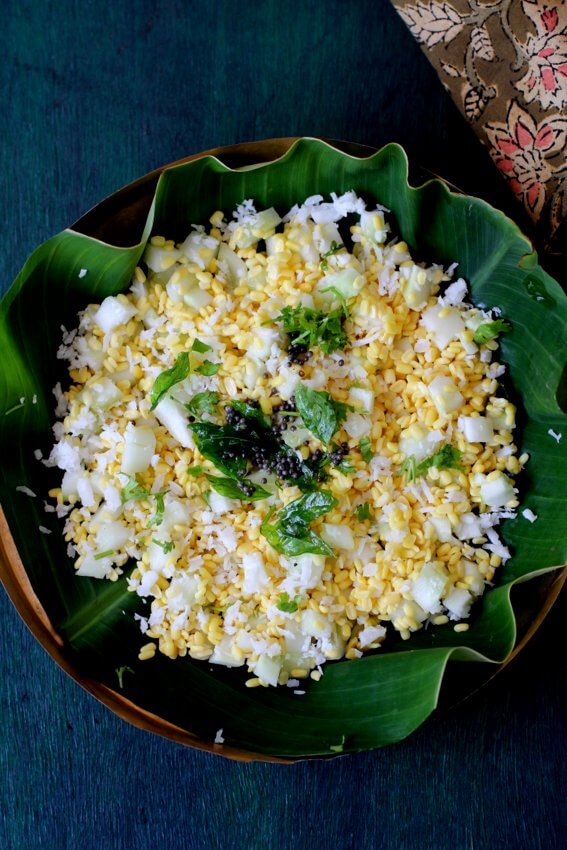 kosambari recipe
This Karnataka style moong dal salad recipe which is super quick to put together can be tempered with mustard seeds and curry leaves but it tastes equally good without tempering too. It would then fall under 'cooking with fire Indian recipes'. The crunch from the cucumber, the sweet flavor of coconut and tangy flavor of lemon balances the earthy lentils giving it a delicious flavor and texture. The fresh coriander lends a touch of color and brightness elevating the salad to something special. Less is more, nutritious vegan food that is amazingly tasty. One of the best Indian salad recipes.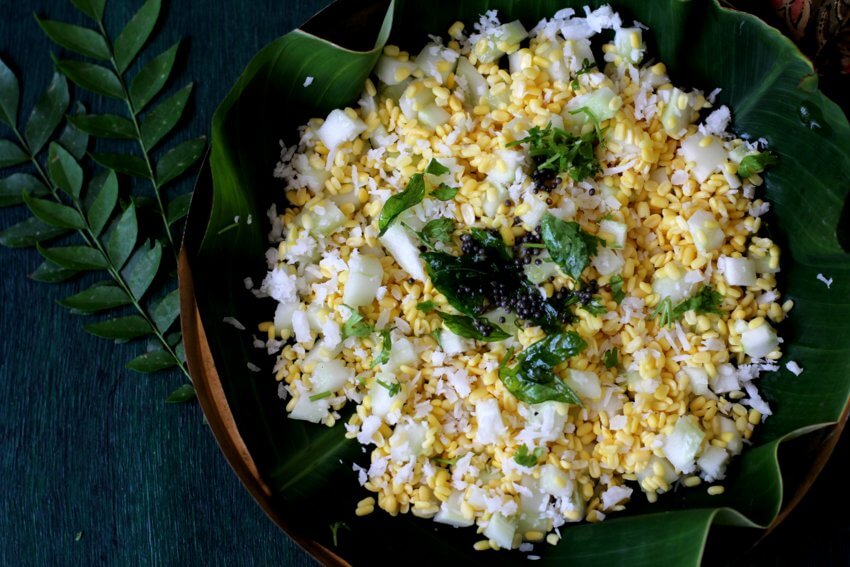 moong dal salad karnataka style
And I must mention that is stores well in the fridge.
How to make kosambari recipe or moong dal salad