High protein salad for the Gods! 🙂 One of the dishes Amma prepared for Ganesh Chaturthi as part of the naivedyam was boiled black chickpeas (Kala chana) tempered with spices. Goes by the name 'Guggulu' in parts of Andhra. We at home call it 'Talimpu Senagalu'.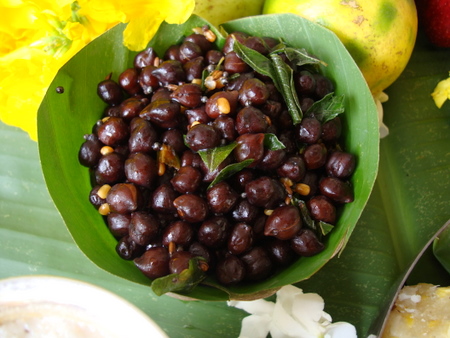 Talimpu Senagulu ~ Guggulu
Aromatic curry leaves make a great pair with chick peas. "Less is more" – drizzle of oil, dash of asafoetida, mustard seeds, cumin seeds, split gram dal, green chillis and a sprig of curry leaves is all it takes to match the nutty flavor of boiled chick peas.
Kommu Senagalu Talimpu Recipe
Prep: 30 mts
Serves: 4-5 persons
.
Ingredients:
1 cup black chickpeas/kala channa/kommu senagalu
salt to taste
Seasoning/Tadka/Poppu:
1 1/2 tsps oil
1/2 tsp mustard seeds
1/2 tsp cumin seeds
1/2 tsp split gram dal/minappapu/urad dal
1-2 chopped green chillis
1 sprig fresh curry leaves
1 Pressure cook chick peas till soft. Add salt and combine.
2 Drizzle oil in a pan, add mustard seeds and let them pop, add the urad dal and as it turns red, add the asafoetida, chopped green chillis and curry leaves. Saute for 15-20 secs. Add the cooked chick peas and combine. Adjust salt and turn off heat.
Note: Grated coconut is optional. Add 2 tbsps of grated coconut and combine.
Vinakaya Chavithi neivedyam recipes blogged ~ Paala Undrallu, Kudumulu, Uppu Kudumulu, Undrallu, Atukulu Payasam and Pulihora.