The podi (spice powder), pachadi (type of chutney) and the pickle form an integral part of Andhra cuisine and no Andhra vegetarian meal is complete without them. Other than the famous traditional Andhra Avakai (Mango Pickle), Andhra cuisine also boasts of an assortment of pachadis, one of them being Pachi Mamidikaya – Kobbari Pachadi.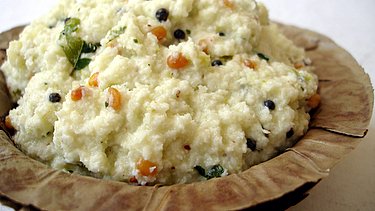 Raw Mango-Coconut Chutney, is a very simple recipe that is easy to make, healthy and flavorful. This authentic pachadi, one of Andhra's raw cuisine side dishes, is traditionally ground in a stone mortar and served with steamed white rice and ghee, tastes the best, the day its prepared unlike few other pachadis that have a longer shelf life.
This humble pachadi with a tangy-sweet flavor due to the mango and coconut and subtle spice taste of the green chillis, is prepared by grinding raw mango pieces with grated fresh coconut and green chillis and infused with a seasoning of mustard seeds, fresh curry leaves and asafoetida.