Kobbari annam, aloo kurma and perugu pachadi (raita) ~ Our weekend meal
During weekends, I like to prepare elaborate or special meals. One of my best-loved meals is a coconut flavored aromatic rice with a creamy potato curry – Kobbari annam and Aloo kurma. The combination of flavors, the richness, sweetness and aroma makes the meal immensely flavorful and deeply satisfying. The fragrant coconut rice is rich and marginally sweet with green chillis adding a touch of spice. The creamy Aloo kurma is lightly spiced and a paste made of poppy seeds and coconut provides depth, texture and taste to the curry. A delectable combination that can be rustled up in under an hour!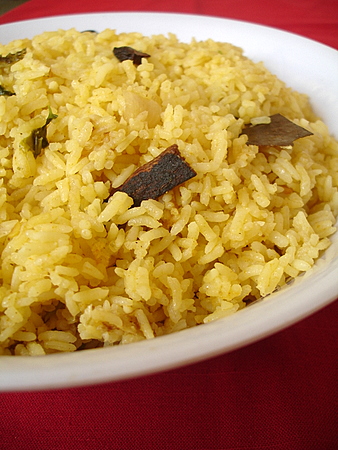 Kobbari Annam ~ Coconut Rice
Kobbari Annam Recipe
Recipe source: Amma
Prep & Cooking: 30 mts
Serves 4-5 persons
.
Ingredients:
2 cups raw rice
4 cups coconut milk
salt to taste
1/4 tsp turmeric pwd (optional)
8-9 garlic cloves, finely sliced OR 1 tsp ginger-garlic paste
4-5 slit green chillis
2 onions, finely sliced
1″ cinnamom stick (2 pieces)
2 cloves
2 elachis
1-2 bay leaf
1 tbsp ghee + 1/2 tbsp oil
1 Heat ghee and oil in a cooking vessel on medium heat, add the cinnamom stick, cloves, elachi and bay leaf and fry for a few seconds. Add sliced garlic and fry for half a minute. Add the green chillis and sliced onions and saute for 4 mts on medium heat.
2 Add turmeric pwd, salt and combine. Add the drained rice and fry it along with onions for a minute. Add 4 cups of coconut milk and bring to a boil.
3 Reduce heat and place lid and cook till rice is done.
4 Garnish with coriander leaves.
How to extract coconut milk: Grate a coconut, add 2 glasses of hot water and leave aside for 30 mts. Grind it to a fine paste. Place a muslin or thin cotton cloth on a vessel and pour this mixture onto the muslin cloth. The strained milk is called 'first milk' of coconut. Use your hand to squeeze out the milk from the residue. Add one more glass of water to the residue and run in the grinder for a mt. Strain on to muslin cloth. This second extract is called 'second milk' of coconut.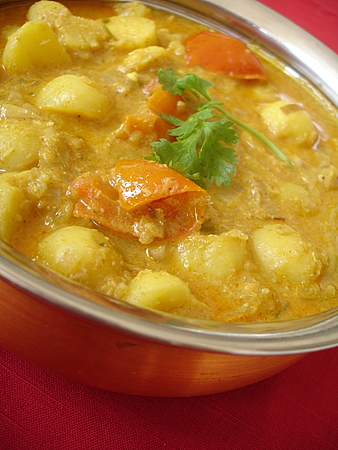 Alu Kurma ~ Potato Curry
Aloo Kurma Recipe
Source: Amma
Prep & Cooking: 30 mts
Serves: 4-5
Cuisine: Andhra
.
Ingredients:
3 potatoes, washed, boiled, peeled and cubed
1 large onion, finely chopped
2 green chillis, slit length wise
2 tomatoes, quartered
10-12 fresh curry leaves
1 tsp ginger-garlic paste
pinch of turmeric pwd
1/2 tsp red chilli pwd (adjust)
1 tsp coriander pwd
salt to taste
1 tbsp coriander leaves
1/2 tbsp oil
Make a paste by adding little water:
2 tbsps grated fresh coconut
1 tbsp poppy seeds/khus-khus/ghasagasalu
1 Heat oil in a vessel, add the chopped onions, green chillis and curry leaves and saute for 4-5 mts or till the onions turn transparent.
2 Add ginger garlic paste and fry further for another 3 mts. Add the chilli pwd, turmeric pwd, coriander pwd and salt. Combine well.
3 Add the quartered tomatoes and boiled and cubed potatoes and cook on medium heat for 6-7 mts. Reduce heat, add the ground coconut-poppy seeds paste and combine. Cook for 3-4 mts.
4 Add a glass of water, adjust salt and cook covered till you get the desired gravy consistency.
5 Garnish with fresh coriander leaves and serve with hot rotis, coconut rice or any flavored rice.
Note:
Alternately, you could vegetables of your choice for a vegetable coconut flavored rice. Once the onions are fried, add the cubed vegetables and saute for 6-7 mts and follow the rest of the above procedure. Another option is to add 1 tsp ginger garlic paste in place of the sliced garlic.