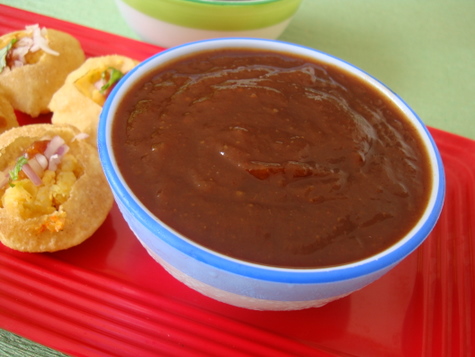 Date Tamarind – Sweet Chutney with Pani Puri
Sweet chutney is an essential component of Chaat, all varieties of Chaat including Pani Puri, Bhel Puri, Masala Puri and Samosa. Just a dash of this stunning sweet-tart condiment spread over Chaat, enhances the flavor by leaps and bounds, making it a key factor for a complete Chaat experience. This zesty sweet and tangy dip recipe calls for the use of tamarind, dates, jaggery and roasted cumin powder.
,
Khajur Imli ki (Sweet) Chutney Recipe
Prep & Cooking: 45 mts
.
Ingredients:
3/4 cup grated jaggery (adjust)
10-12 dates
small orange sized tamarind (de-seeded)
3/4 tsp chilli pwd
1/2 tsp saunf pwd (optional)
1 tsp roasted cumin pwd
water as required
salt to taste
1 Soak tamarind in 2 cups of warm water for 5 mts. Heat a heavy bottomed vessel, add the tamarind along with the water and bring to a boil. Turn off heat and cool.
2 Once cool, grind this tamarind mixture along with dates to a fine paste, adding very little water. Strain through a sieve and pour this tamarind-date paste back into the heavy bottomed vessel.
3 Cook on slow to medium flame for 2-3 mts. Add the grated jaggery and allow it to melt and blend well with the tamarind date mix. Continue to cook till it becomes a thick pouring consistency, approx 15-18 mts.
4 Add chilli pwd, cumin pwd, saunf pwd and salt to taste and combine. Turn off heat. Even if the chutney is thick, its fine. Once cool, refrigerate and use as required.
Note:
When required, take few tbsps of chutney, add little water to dilute it to the consistency of your choice. The sweet chutney can be refrigerated and has a shelf life of 2-3 months.