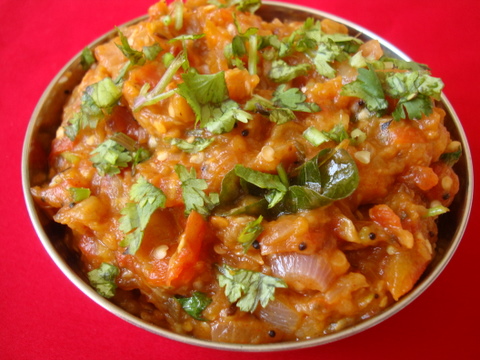 Kalchina Vankaya Tomato Pachadi
The winning combination of roasted eggplants and tart-sweet tomatoes is a match made in heaven. Roasted eggplant lends a deliciously smoky edge while balancing out the tart flavor of tomatoes. Works great as a dip, or pachadi to go with rice or side with rotis. Whatever you choose to have it with, its culinary bliss. 🙂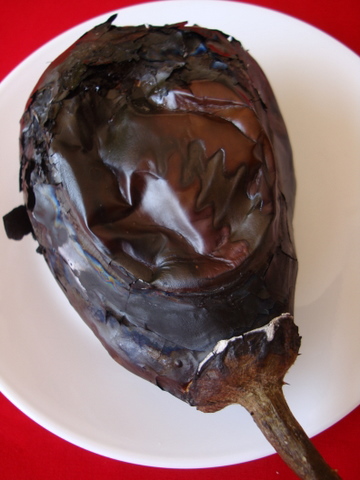 Roasted Eggplant
Kalchina Vankaya Tomato Pachadi Recipe
Prep & Cooking: 30 mts
Serves 3-4 persons
Cuisine: Andhra
.
Ingredients:
1 large brinjal, preferably white or else purple
1 onion, finely chopped
1″ ginger, finely minced
2 tomatoes, finely chopped
2 green chillies, finely chopped
pinch of turmeric pwd
1 tbsp finely chopped coriander leaves
salt to taste
Poppu/Tadka/Tempering:
1/2 tsp mustard seeds
1/2 tsp cumin seeds
1/4 tsp asafoetida/hing/inguva or 2-3 crushed garlic flakes
1-2 dry red chillis, tear and de-seed
10-12 fresh curry leaves
1 Grease the brinjal with oil and roast over low heat. To ensure even cooking rotate the brinjal. Remove from flame sprinkle water and leave aside to cool for 8-10 mts. Peel the skin and mash the pulp with a fork and keep aside.
2 Heat oil a vessel, add the mustard seeds and let them splutter. Add the cumin seeds and urad dal and let the dal turn red. Add the red chillis, ginger, hing or garlic and curry leaves, fry for a few more seconds. Don't burn them. Add the chopped onions and saute for 3 mts. Add turmeric pwd and combine.
3 Add the chopped tomatoes and salt and cook for 6-7 mts till they turn soft. Add the mashed eggplant and combine well. Cook for 3-4 mts.
4 Garnish with chopped coriander leaves. Serve with rice or rotis.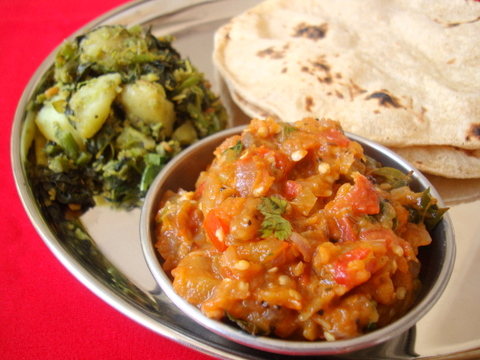 Roasted Eggplant and Tomato Chutney, Amaranth leaves Potato Fry with Pulka