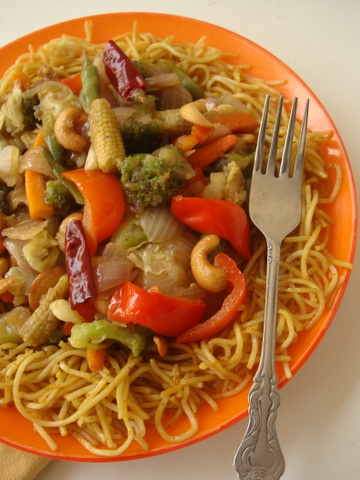 Vegetable Hong Kong Style with Fried Noodles
A light vegetarian stir fry dish that is flavorful, colorful, substantial and healthy. Serve the stir fried vegetables over a bed of fried noodles or steamed rice and enjoy the symphony of flavors and textures. Not to mention, your family get to eat their 5 a day portion of vegetables in a single meal. 🙂
Vegetable Hong Kong Style with Fried Noodles Recipe
Prep & Cooking Time: 45 mts
Serves 4 persons
Cuisine: Indo-Chinese
.
Ingredients:
2 onions, each cut into 8 pieces
1 carrot, cut into thick pieces
8-10 french beans, cut into 1″ pieces
1 cup cabbage, cut into big pieces
4-5 babycorns, cut diagonally into two
2 green or red bell peppers, cut each into 8 pieces
few florets of cauliflower or broccoli
2-3 dry red chillis, tear into pieces
3 crushed garlic flakes or 1/2 tsp grated ginger
1 tsp light soya sauce
1 1/2 tsps chilli sauce
3/4 tbsp vinegar
1 tsp brown sugar
1 1/2 tbsps cornflour combined in 1 cup water
9-10 cashew nuts or walnuts
salt to taste
pepper to season
2 tbsps sesame oil or peanut oil
For fried noodles:
3 cups cooked noodles
1/2-3/4 tsp red chilli pwd
1 tsp tomato ketchup
1/2 tsp light soy sauce
salt to taste
1 tbsp oil
1 To parboil vegetables, boil a liter of water with 1/2 tsp salt. Add broccoli, carrot, cabbage and beans to the boiling water and cook for 2-3 mts. Remove from heat, strain and pour cold water over the vegetables and strain again. Keep aside.
2 Heat oil in a large wok and once the oil is hot, add the cashew nuts or walnuts and fry to a golden shade and remove and keep aside.
3 Add garlic or ginger and saute for a few secs, add red chillis and saute for few secs. Add the onion and cook on high for a mt. Add the parboiled vegetables, baby corn and capsicum and saute for 5 mts.
4 Add soy sauce, vinegar, chilli sauce, pepper, sugar and salt and combine well. Add the corn flour along with water and go on stirring continuously till it thickens slightly and coats the vegetables. Remove from heat and keep aside.
5 To prepare fried noodles, heat oil in a wok, add salt, chilli pwd, soy sauce and tomato sauce and mix. Add boiled noodles and fry till the noodles are browned a bit, approx 2-3 mts. Remove from heat.
6 To serve, place the vegetables in the center of the serving plate and surround with fried noodles. Garnish with fried cashew nuts. Serve warm.