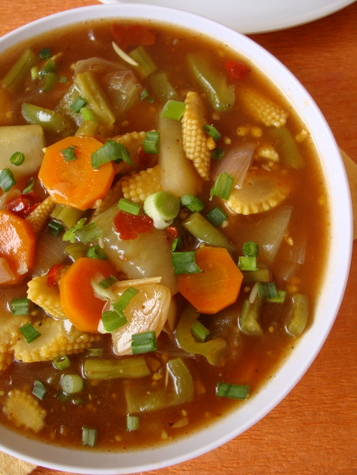 Schezwan Vegetables
A few weeks ago we enjoyed a lovely Indo Chinese meal that included Schezwan Vegetables, which is an Indo Chinese version of Schezwan sauce that I adapted from Nita Mehta's Vegetarian Chinese Cookbook. Tender crisp vegetables are cooked in a fiery sauce that has hints of sweet and sour flavors and a predominately spicy taste. The vegetables need to be cooked to the point where they retain their crunch, flavor and color, so do not overcook them. Makes a good side with noodles or fried rice. For a non-veg version, add some cooked chicken, prawns or fish pieces.
Schezwan Vegetables Recipe
Prep & Cooking Time: 40 mts
Serves 4 persons
Cuisine: Indo-Chinese
.
Ingredients:
1 onion, cut into 8 pieces
1 carrot, cut into thin rounds
8-10 french beans, cut into 1″ pieces
4-5 babycorns, cut diagonally into two
1 very small cucumber, slice and halve them
1 green capsicum, cut into 8 pieces
Bring together the sauce ingredients:
2 dry red chillis, de-seed and tear into pieces
1/4 tsp red chilli pwd
large pinch of clove pwd
8 crushed garlic flakes
1 1/2 tsps light soya sauce
2 tbsps vinegar
1 tbsp brown sugar
1 tbsp tomato ketchup
2 tbsps tomato puree
1 tbsp cornflour
1 1/4 cups water
salt to taste
pepper to season
2 cups vegetable stock or water
2 tbsps sesame oil or peanut oil
2 tbsps finely chopped spring onion greens
1 Heat oil in a large wok and once the oil is piping hot, add the onion and cook till soft.
2 Add carrots, beans and babycorn and cook for 3 mts. Add cucumber and capsicum and saute for 10 secs.
3 Add the prepared sauce mixture and bring to a boil. Combine well and cook for 2 mts on low flame till the sauce thickens slightly and vegetables turn crisp tender.
4 Turn off heat and garnish with spring onion greens or fried noodles.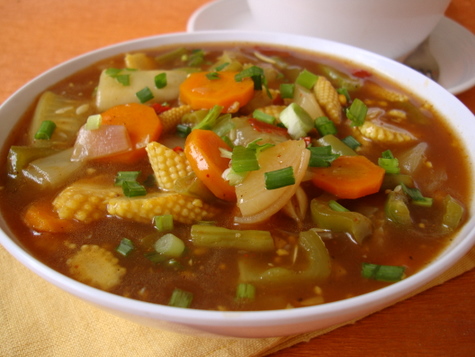 Schezuan Vegetables