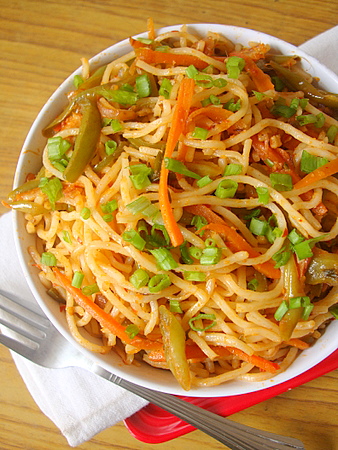 Schzewan Noodles
Its been a while since Vizag experienced cold weather with drizzles. The nights are getting chillier and am just loving the weather though it breaks my heart to see Nehal go to school in such cold weather. You see, its rare to find kids wearing sweaters (unless sick) to school in Vizag with this year being an exception. I tell myself its just few more days before school closes for winter vacation (5 1/2 weeks). Winter holidays, now that's another story.
Today's weather had me craving for a heart warming soup and spicy noodles. Prepared Sweet corn vegetable soup and Schezwan noodles for lunch. Explosion of flavors to say the least. Reduced the spice factor for Nehal's portion of Schezwan noodles. Its way too spicy for my 8 year old, in fact for us adults as well. 🙂
Schezwan Vegetable Noodles Recipe
Prep & Cooking Time: 30 mts
Serves 4 persons
Cuisine: Indo-Chinese
.
Ingredients:
1 packet egg noodles (boiled, drained in cold water and tossed in 2 tsps oil)
1/4 cup spring onions, finely chopped
2 cups julienne vegetables (beans (par boil), carrots, cabbage and capsicum)
1/2 tsp soya sauce
1 1/2 tbsps schezwan sauce (adjust)
1/2 tsp brown sugar (optional)
1/2 tsp pepper pwd
salt as required
1 1/2 tbsps sesame oil or peanut oil
1 tbsp chopped spring onion greens, finely chopped
Schezwan Sauce
12 dry red chilies, soak in warm water for 1/2 hr
1 tsp grated ginger
12 garlic cloves
1 1/2 tbsp red chilli sauce
1 tsp soy sauce
1 1/2 tsps brown sugar
3 tsps vinegar
1 tbsp oil
1 Prepare schezwan sauce. Strain the water from the red chilies and grind to a fine past with ginger and garlic. Heat oil in a pan, add the paste and saute for 4 mts. Add red chili paste and saute for another 2 mts. Add soy sauce, sugar, salt and 3-4 tbsps water. Cook for a mt. Add vinegar and cook for a few secs and turn off heat. Cool and refrigerate. Its can be stored for few weeks.
2 Heat a wok with sesame oil till piping hot, add the spring onions and stir fry for 1 mt on high.
3 Add the rest of the vegetables and toss them on high heat for 4 mts.
4 Add salt, pepper pwd and brown sugar and combine. Add the schewan sauce and mix. Add the drained noodles and combine well.
5 Toss the noodles and vegetables on high heat for a few secs. Turn off heat. Garnish with chopped spring onion greens and serve hot.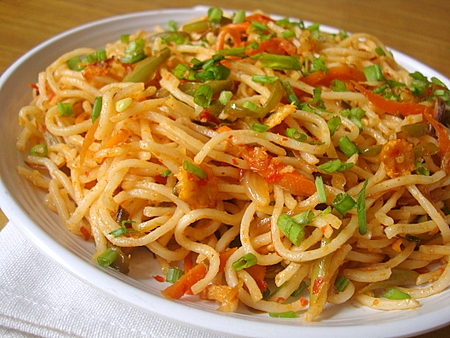 Schezwan Veg Noodles