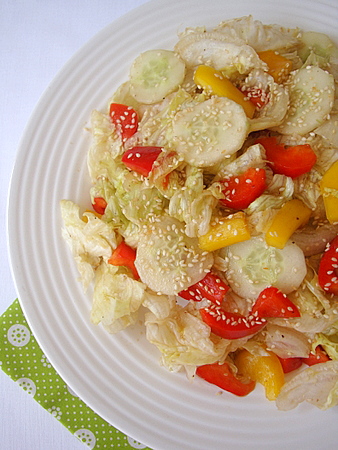 Iceberg Lettuce Salad
Had a light meal for lunch today. Prepared a simple and quick salad with Iceberg lettuce, red and yellow capsicums and cucumber. I used balsamic-honey vinaigrette which is simple yet assertive.
Wash, pat dry a head of iceberg lettuce and tear into bite sized pieces, slice a cucumber, dice half a red bell pepper and yellow bell pepper. For salad dressing, whisk 1 tbsp balsamic vinegar, 1 1/2 tbsps olive oil, crushed small garlic clove, 1 tsp mustard sauce, salt to taste, 1/4 tsp pepper powder and 2 tsps of honey. Pour this dressing over the raw vegetables and toss well. Refrigerate until use. Finish with a sprinkling of toasted sesame seeds or nuts of your choice.