I have been clipping recipes from magazines and newspapers since God knows when. A friend says I'm an 'obsessive recipe collector'. I'd say, I'm consistent in my collection of recipes. 🙂 Are some of you like me? Enjoy collecting recipes?
I enjoy flipping through my recipe files reading through like I would a magazine, trying to imagine the taste of a particular dish. Its another story that most of these filed recipes have never seen the light of the day, at least, in my kitchen. These days, I tend to rely more on bookmarked recipes from fellow bloggers that inspire me to try out in my kitchen.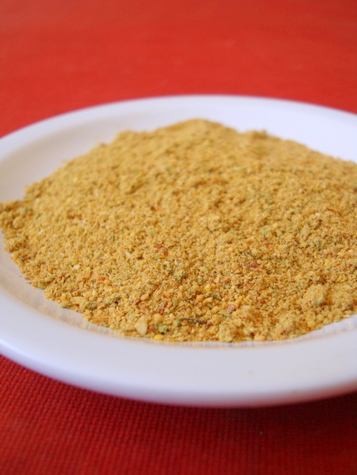 Sambar Powder
One such bookmarked recipe that I tried is sambar podi from Shri. Hemant Trivedi's cookery website. Hemant ji (do not mistake him for the fashion designer who shares the same name) is a culinary expert on Indian cuisine, especially cuisines of South India and Gujarat. Do visit his website for some authentic, down-to-earth recipes that actually work. I have been following his stunning sambar podi recipe with great success and am happy to share it with you, dear readers.
I prepare enough podi to last 2 weeks and usually prepare sambar once a week. I do not stock on large quantities of podi since sambar prepared with freshly ground sambar podi is far superior compared to sambar prepared with store bought or months old home made podi. The aroma of roasted and coarsely powdered sambar podi fills the home luring its inmates to a comfort-promising meal.
Original recipe ~ Hemant ji's Sambar Podi
How to make Sambar Powder/Podi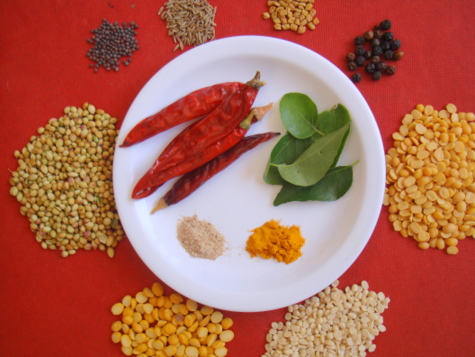 Sambar Podi Ingredients
Sambar Podi Recipe
Preparation: 15-20 mts
Yields: 5 – 5 1/2 tbsps
Cuisine: South Indian
.
Ingredients:
2 1/2 tbsps coriander seeds/dhania/dhaniyalu
1 1/4 tbsps red gram dal/tur dal/kandi pappu
3/4 tbsp bengal gram dal/channa dal/senaga pappu
3/4 tbsp split black gram dal/urad dal/minappapu
4-5 dried red chillies/lal mirchi/endu mirapakayalu
1 tsp pepper corns/kali mirch/miriyalu
1/4 tsp mustard seeds/ria/avalu
1/4 tsp fenugreek seeds/methi/menthulu
1/2 tsp cumin seeds/jeera/jeelakara
1/4 tsp turmeric pwd/haldi/pasupu
1/4 tsp asafoetida/hing/inguva
5-7 fresh curry leaves/kadi patta/karivepaaku
1 Heat a heavy bottomed vessel and roast the dals on low to medium heat for 4-5 mts till the dals release their flavor and turn golden. Remove and keep aside. Add methi seeds and roast for 3-4 mts till they turn red. Remove and keep aside. Add coriander seeds and roast for 4-5 mts till they turn dark brown and release their flavor. Remove and keep aside. Add the mustard seeds and roast till they start to pop. Remove and keep aside. Add cumin seeds and pepper corns and roast for 2-3 mts. Remove and keep aside. Finally roast the dry red chillis and curry leaves for a mt and remove. Cool all the ingredients completely.
2 Place the podi ingredients along with turmeric pwd and asafoetida in a blender and grind to make a coarse powder as shown in the picture above.
3 Store in an air tight container.
Note:
The proportion for podi given above is enough to last 2-3 weeks.
Earlier 'How to' articles:
How to make butter and ghee – photo tutorial
How to make rava dosa – photo tutorial
How to make ginger garlic paste
How to blanch tomatoes & onions