My blog has been experiencing server issues the past three days. It has just been resolved and the post meant for Monday goes up today.
Our backyard starfruit tree is yielding a lot of fruit this season. I prepared a yellow and green colored salad using starfruit, yellow capsicum and boiled chickpeas loaded with honey roasted assorted nuts for Monday's high raw food mid day meal. Crunchy and delicious!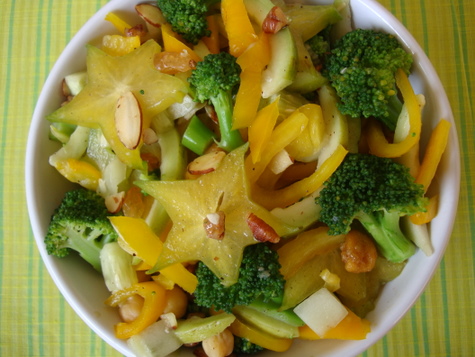 Star fruit Broccoli Salad
Bring together 1 sliced star fruit, 1 peeled and chopped cucumber, fistful of boiled chickpeas, 1/2 cup broccoli florets (boil for 1-2 mts), 1 yellow capsicum, thin slices, 1 sliced guava, fistful of raisins, 1/2 tbsp honey, salt and pepper to taste, few roasted assorted nuts. Toss well. Add any fruit of your choice.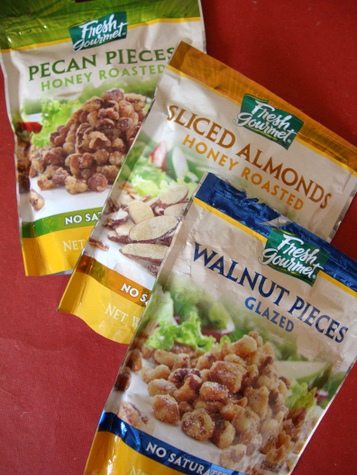 Assorted Roasted Nuts
Monday high raw food diet ~
Morning: 6.15 am – Glass of luke warm lemon water
Breakfast: 7.30 am – Bowl of sprouts, sliced almonds (soaked and peeled), few raisins, a dash of lime and pepper. Toss well. And tender coconut water.
Mid Morning: 9.30 am – An apple and orange
Mid Morning: 11 am – Watermelon juice
Lunch: 1.30 pm – Star fruit Broccoli Capsicum Salad
Afternoon: 3 pm – Tender Coconut water
Late Afternoon 4 pm – Cup of green tea
Dinner: 6.45 pm – Bowl of watermelon
Drank more water than usual. One tsp of triphala churna with a tbsp of honey at bed time.
High raw food Recipes
Pineapple Paneer Salad
Black Chickpeas Fruit Salad
Peas, Paneer and Peanut Salad
Apple Broccoli Cucumber Salad