Sharing the high raw food diet (1 day a week) that I had today, on request by my dear readers. Had a khatta meetha fruity salad for lunch which was light on the stomach with a delightful blend of flavors.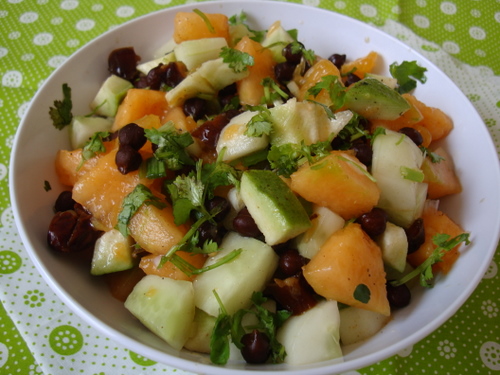 Bring together 1/4 cup of boiled black chickpeas (kala channa), 1 small guava, chopped, 1 medium sized cucumber chopped, 1 1/2 cups chopped muskmelon, peeled orange segments, 4 chopped dates, 1/2 tbsp chopped coriander leaves, 2 tbsps orange juice, 1/2 tsp chaat masala, pepper to taste. Toss well. Add any fruit and nuts of your choice.
Monday high raw food diet ~
Morning: 6.15 am – Glass of luke warm lemon water
Breakfast: 7.30 am – Moong Sprouts with chopped onion, tomato and a dash of lime and pepper, few soaked and peeled almonds and tender coconut water
Mid Morning: 10 am – Sweet lime juice and few dates
Lunch: 12.45 pm – Black Chickpea & Fruit Salad
Late Afternoon: 3.30 pm – Cup of green tea
Dinner: 6.45 pm – Bowl of chopped fruits (papaya and muskmelon) seasoned with chaat masala and toasted sesame seeds
Drank more water than usual and just before going to bed will have a tsp of triphala churna with a tbsp of honey.
High raw food Recipes
Pineapple Paneer Salad