Today's ABC salad is visually vibrant, crunchy, with sweet and savory flavors. In other words, simply delicious. I particularly enjoyed the combination of apple, broccoli and walnuts. The slight crunch of parboiled broccoli, dressed in balsamic vinegar is remarkably good.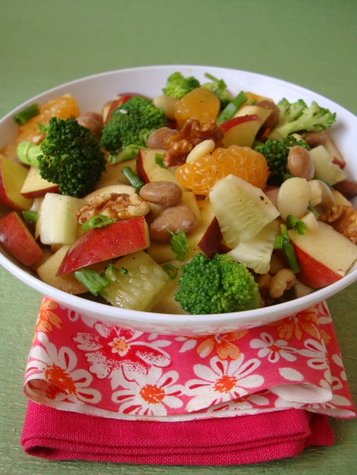 Apple Broccoli Cucumber Salad
Bring together 1 chopped apple, 1 peeled and chopped cucumber, fistful of boiled lima beans, 1/2 cup broccoli florets (boil for 1-2 mts), 2 tbsps chopped spring onion whites and greens, orange segments, chopped coriander, 1 1/2 tbsp balsamic vinegar, salt and pepper to taste, 1/2 tbsp honey or any sweetener of your choice, few toasted walnuts. Toss well. Add any fruit of your choice.
Monday high raw food diet ~
Morning: 6.15 am – Glass of luke warm lemon water
Breakfast: 7.30 am – Small bowl of sprouts, small chopped onion, small chopped tomato, sliced almonds (soaked and peeled), few raisins, a dash of lime and pepper. Toss well. And tender coconut water.
Mid Morning: 9.30 am – A guava and 2 chickoos/sapota/sapodilla
Mid Morning: 11 am – Glass of mousambi juice
Lunch: 1.30 pm – Apple Broccoli Cucumber Salad
Afternoon: 3 pm – Tender Coconut water
Late Afternoon 4 pm – Cup of green tea
Dinner: 6.45 pm – Bowl of muskmelon and papaya
Drank more water than usual. Just before going to bed, I will take a tsp of triphala churna with a tbsp of honey.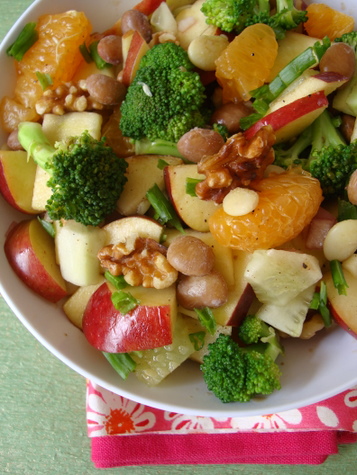 High raw food Recipes
Pineapple Paneer Salad
Black Chickpeas Fruit Salad
Peas, Paneer and Peanut Salad