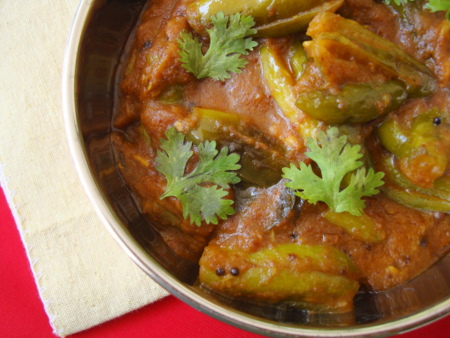 Gutti Dondakaya ~ Stuffed Kovakkai aka Tindora
It doesn't take much for me to prepare a stuffed vegetable dish. Send some brinjals or ivy gourds my way and I'll happily stuff and cook them to feed some hungry folks until they are stuffed. 🙂
Dondakaya, Kovakkai, Kundru, Ivy Gourd
Those who like tindora (kovakkai) will enjoy this recipe. Gutti dondakaya is soft on bite while a medley of spices in a tangy sauce deliver a comforting mouth-feel bringing intrigue to the simplicity of ivy gourd. The recipe couldn't get easier, not to mention delicious and is sure to become a regular in your kitchen.
Gutti Dondakaya Recipe
Prep & Cooking: 45 mts
Serves: 4-5 persons
Cuisine: Andhra
.
Ingredients:
1/4 kg dondakayalu/tindora, chop ends, make a + slit length wise for stuffing
2 medium sized onions
1 tsp grated jaggery (adjust)
small lemon sized tamarind (soak in 1/4 cup warm water)
salt to taste
1 1/2 tbsps oil
coriander leaves for garnish
Seasoning/Poppu/Tadka:
1/2 tsp mustard seeds
1/2 tsp cumin seeds
4-5 crushed garlic cloves
few curry leaves
Roast:
4 dry red chillis
1 tsp cumin seeds
1 tbsp urad dal/split gram dal/minapappu
1/2 tsp oil
1 Heat oil in a pan, add the cumin, red chillis and urad dal and toast for 3-4 mts. Make a paste along with onions, add salt. Stuff the nipped dondakayalu with the stuffing and keep aside.
2 Heat oil in a vessel, add mustard seeds and let them pop, add the cumin seeds and garlic and saute for a mt. Add the curry leaves and saute for a few secs.
3 Add the stuffed tendli and the rest of the remaining stuffing. Place lid and cook on low heat. After 4-5 mts, uncover the lid and turn the pieces so that they cook all over. Cook for another 15 mts.
4 Add tamarind extract along with 1/4 cup of water. Let it cook on low heat with lid till the dondakayalu turn soft. Add jaggery and combine.
5 After 4-5 mts, uncover the lid and turn the pieces so that they cook all over. Garnish with chopped coriander leaves.
6 Turn off heat and serve with hot steamed rice.