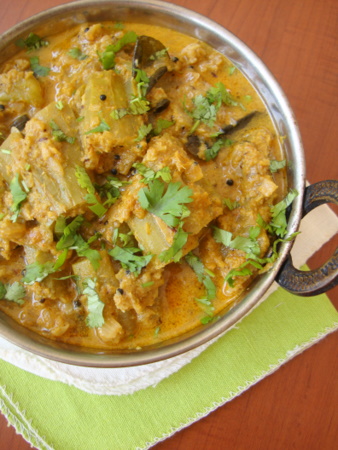 Gutti Beerakaya
Ridge gourd is one of my favorite vegetables. I love the combination of flavors in today's stuffed ridge gourd recipe. Nutty sesame seeds, coconut and tangy tamarind are the secret weapons that lend that perfect flavor to the curry. Those allergic to peanuts can substitute with melon seeds or cashew nuts. Serve along with warm rice for a filling and hearty meal.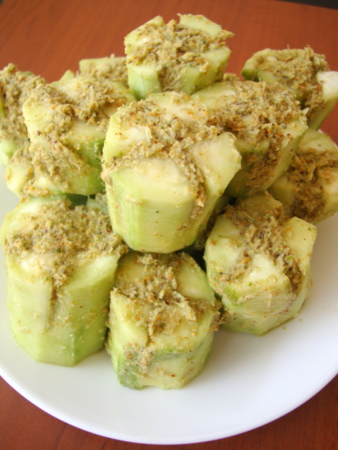 Stuffed Ridge Gourd
Gutti Beerakaya Kura Recipe
Prep & Cooking: 45 mts
Serves: 4-5 persons
Cuisine: Andhra
.
Ingredients:
300 gms ridge gourds (beerakaya), peeled, cut into 1 1/2″ pieces, make a + slit on top for stuffing
1 onion, finely chopped
1/4 tsp turmeric powder
1 tsp mustard seeds
few curry leaves
1/2 tsp hing/inguva/asafoetida
1 1/4 tbsps tamarind paste
1 tbsp roasted sesame seeds powder
1 1/2 tbsps oil
chopped coriander leaves for garnish
For stuffing:
2 tbsps grated fresh coconut paste
2 tsps sambar powder
1/2 tsp saunf/aniseed powder
1 1/2 tsps green chili-ginger paste
1 tbsp roasted ground nut powder
1/4 tsp salt
1 tsp grated jaggery (optional)
1 Take a tbsp of the paste and stuff each of the slit ridge gourd pieces.
2 Heat oil in a vessel, add the mustard seeds and allow them to splutter. Add the curry leaves and asafoetida and stir for a 5 seconds. Add the chopped onions and saute for 5 mts. Add the turmeric powder and mix. Place the stuffed ridge gourds in the pan and cook covered on medium heat.
3 After 4-5 mts, uncover the lid and turn the pieces so that they cook all over.
4 Cover and cook on low heat till the ridge gourds become soft. This could take about 16-17 minutes. Once in a while turn the ridge gourd pieces.
5 Add the tamarind paste and 1 1/2 cups of water and cook on low to medium flame for 15-20 mts. Sprinkle sesame seeds powder and mix.
6Turn off heat and serve with hot white steamed rice.