Guggillu aka Sundal is nothing but tempering chickpeas (kabuli chana or garbanzo beans). This recipe with chickpeas is made as an offering to Durga Ma as a Navratri special item.
Boiled chickpeas are lightly browned in a pan, but what makes it special is the toasted spices like mustard seeds and asafoetida combined with fresh curry leaves, plus a sprinkling of fresh grated coconut.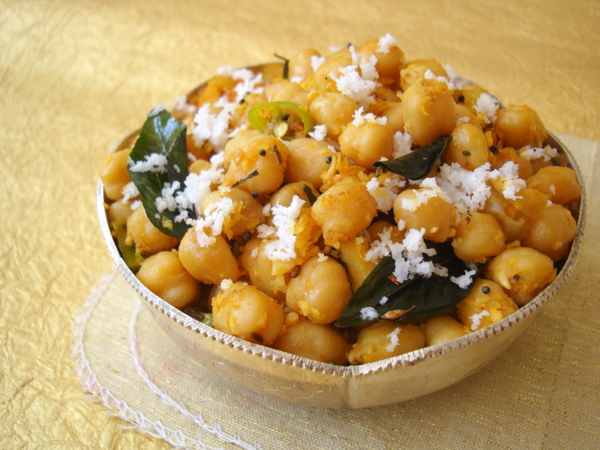 Giggullu ~ Tempered Chickpeas
Guggillu – Sundal Recipe
Prep: 25-30 mts
Serves: 4 persons
Cuisine: Andhra
.
Ingredients:
1 cup white chickpeas/kabuli channa/senagalu, washed and soaked for 6-7 hrs
pinch of baking soda
salt to taste
Tempering/Tadka/Poppu:
1 1/2 tsps oil
1/2 tsp mustard seeds
1/2 tsp cumin seeds
1/2 tsp split gram dal/minappapu/urad dal (optional)
1/4 tsp asafoetida/inguva/hing
1-2 chopped green chillis
1 sprig fresh curry leaves
1-2 tbsps grated fresh coconut (optional)
1 Pressure cook chick peas along with 3 cups of water, salt and baking soda till soft. The chickpeas should not get mushy.
2 Drizzle oil in a pan heat the oil for half a minute on medium flame. Add mustard seeds and let them pop, add the cumin and urad dal and as the dal turns lightly red, add the asafoetida, chopped green chillis and curry leaves. Saute for 10 secs. Add the cooked chick peas and Mix. Adjust salt and turn off heat.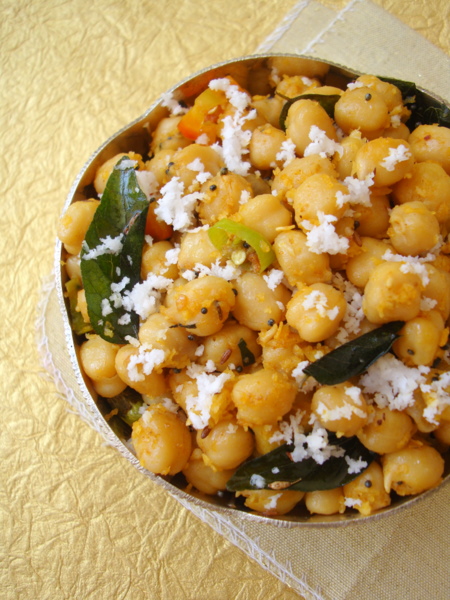 Sundal ~ Navratri Special