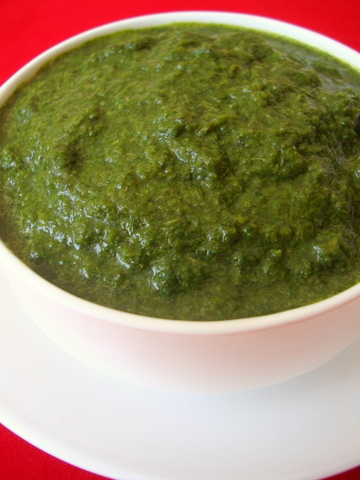 Green Chutney for Chaat
Apart from Sweet chutney, another essential item to assemble most Chaats is Green aka Hari Chutney, prepared with coriander leaves, pudina and lemon juice. Quick to make and can be refrigerated or frozen for many weeks. The chutney will retain its green color due to addition of lemon juice. Hari chutney is versatile and can also be served as a dip or as a spread for sandwich and Kathi roll apart from playing a colorful role in Chaat preparation.
Green (Hari) Chutney Recipe
Prep & Cooking: 15 mts
.
Ingredients:
2 cups chopped fresh coriander leaves, packed
1 cup fresh pudina/mint leaves, packed
2-3 green chillis (adjust)
2 tbsps lemon juice
2 tbsps water
1 1/2 tsps sugar
pinch of salt
1 Wash pudina and coriander leaves thoroughly and allow the water to drain.
2 Grind the mint leaves, coriander leaves, salt, sugar, lemon juice and green chillis to a fine paste, by adding 2 tbsps water.
3 Remove into a bowl. Refrigerate until use. Goes well for chaats like Pani Puri, hot snacks like Samosa or as a spread for sandwich.