I received an email from a newly married home maker who is learning the nuances of Indian food cooking. She had a query for me – "How to make easy breakfast recipes that are not only tasty but quick to make as I need to fix my husband's breakfast by 7.30 am?". Over the years, I have received many such emails requesting for easy, quick to make and tasty recipes. I have shared a few tiffin recipes that include breakfast dishes that can be fixed in less than 30 minutes. I am sharing yet another South Indian breakfast recipe, Gojju Avalakki, that fits the bill and a much relished dish in our home.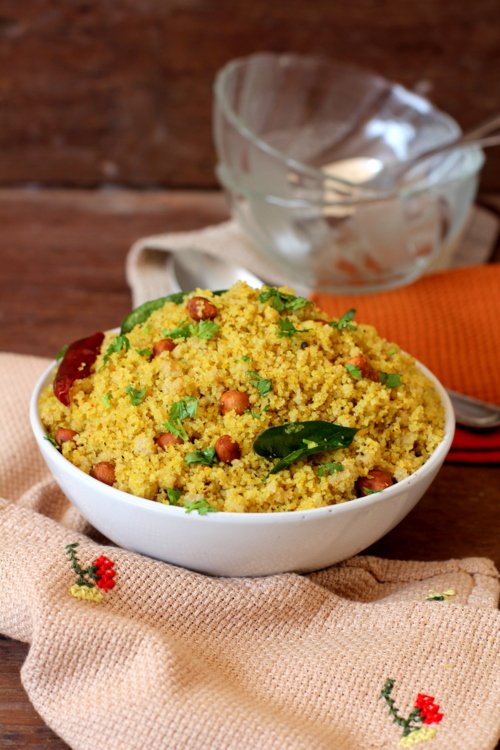 Gojju Avalakki ~ Tangy Spiced Poha
Gojju Avalakki also popularly known as Huli Avalakki is a Karnataka vegetarian breakfast dish this is prepared with beaten rice aka Poha or Atukulu. (Gojju = gravy and avalakki = beaten rice). Beaten rice is ground to a coarse powder, dunked in a tamarind water that is sweetened with jaggery and spiced with rasam powder before sauteed in a tempering of spices and roasted peanuts and finally garnished with fresh coconut and coriander leaves. The roasted peanuts provide a nutty crunch that complements the tangy, sweet and spice flavors of this vegan dish. A variation is the addition of a ground mix of dry roasted black pepper corns and sesame seeds which flavors Gojju Avalakki with a surprising depth.