The Indian Food Trail series kickstarts 2009 with a wonderful article by Supriya aka Sia of Monsoon Spice. A passionate foodie who blogs about the cuisine from her home state Karnataka with a focus on Udupi Mangalore region, Supriya's blog is a foodie's paradise. Do check out some great appetizer recipes as well as various regional cuisines of India she has blogged. Today, Supriya explores Udupi Mangalorean street food fare and also shares two snack recipes that are sure to tickle your taste buds. Thank you, Supriya, for taking the time and effort in bringing your regional street food fare to us. Friends, please give a warm welcome to Supriya. 🙂
~ Sailaja
Snuggled between the mighty Arabian Sea on the west and the majestic Western Ghats on the east is my home town of Mangalore or Mangaluru. Surrounded by beautiful backwaters of Netravati and Gurupura rivers, Mangalore is famous for its rich cultural diversity and is also a commercial trade centre. Everywhere you go you can't help but fall in love with beautiful green rolling hills, swaying coconut palms, roaring sea, sparkling freshwater streams and glorious red tiled-roof buildings.
Mangalorean cuisine is as diverse as the people who have ruled this beautiful coastal city for centuries. History shows that Mangalore was ruled by Kadambas, Vijayanagar dynasty, Chalukyas, Rashtrakutas, Hoysalas, Mysore kingdom, Portuguese and then by the British. Each and every ruler has left behind their rich food culture which has become a part and parcel of Mangalorean cuisine. With four predominant languages being Tulu, Konkani, Kannada and Beary, Mangalore cuisine is also influenced by the neighbouring states of Kerala and Goa.
The basic ingredients used in Udupi-Mangalorean cuisine are simple and easily available. Many a times we use the ingredients which are grown in our backyard or which can be picked from any farmer's market. The belief of "Simple living and high thinking" is highlighted not only in our culture but also in everyday food we cook at home. Mangalore has tropical climate and thus has abundant palm/coconut trees all around. Every smallest of small back gardens in my native has at least one coconut tree and curry plant and thus its no wonder that these two are the heart and soul of Udupi-Mangalorean cuisine. So it doesn't come as a surprise that everyday food cooked and served has two main ingredients-coconuts and curry leaves with a touch of love of course.
In my pursuit for learning Udupi-Mangalorean cuisine, I feel I have just wet my hands in this vast ocean of recipes. Since there is so much to talk about the food I have grown up eating, loving and cherishing, I don't think I will be able to do full justice to it in one post. So I have decided to concentrate on just one part of food which is loved by not just the people from my native but also cherished by many people from around the globe. For more than four decades Mangalore has been a hub of many prestigious educational institutions and it has attracted thousands of students from every corner of India and around the world. One thing that is loved by everyone is the Street Food. As much as we love Chaats, pizzas, burgers and varieties of other fast foods, our love for authentic Mangalorean street food has never diminished in this fast changing world. The main reason for their popularity is their taste and the ingredients used in making them. Most of these street foods use coconut and curry leaves in one way or the other and they simply add depth of flavour and aroma to any dish they touch.
Some of the most loved street foods of Udupi-Mangalore are Mangalore Buns (Deep fried slightly sweet puries made using banana and plain flour), Goli Baje (Deep fried fritter of maida), Mangalore Aloo Bonda/Ambade (Deep fried spicy mashed potatoes coated with gram flour paste), Cabbage Vada (Deep fried Cabbage fritters) Onion Bajji (Deep fried sliced onions mixed with spiced gram flour paste), Balekai Podi (Deep fried sliced Plantains coated with spiced gram flour paste), Jeegujje Podi (Deep fried slices of Bread fruits coated with spiced gram flour paste), Biscuit Rotti (Spicy coconut stuffed Poories) and Churu-Muri (Spiced puffed rice with peanuts, vegetables and coconut oil). Yes, majority of the recipes I have listed above are deep fried and they use Coconut Oil for deep frying. Although it is high in calorie and fat due to deep frying in coconut oil, people from this region come from agricultural background and it is much easier for them to digest and burn all those excess calories. I have picked two of my favourite Mangalorean Street Foods for you to try and enjoy.
Step out of your home and take a walk in a lush green park, breezy seashore at popular beaches or walk near any school/office buildings and you can't help but see the large crowd of people queuing up in front of small wooden cart selling Churu-Muri or spiced puffed rice. This is loved by both kids and adults alike as it contains raw vegetables and fruit along with roasted peanuts. My personal favourite spots which sell the best Churu-muri are located at Panamboor and Malpe beach, Kadri Park and the one located neat St. Aloysius college in Mangalore. And fortunately my husband Krish is quite famous among our friends and family for whipping up this delicious street food. So this recipe comes from Krish which we make it a point to have at least once in every fortnight. Add as much or as little as chilli powder depending on how spicy you want it to be and adjust the quantity of vegetables used according to your taste. It tastes best when coconut oil is used but feel free to use vegetable oil in its place. But try to avoid using strong flavoured oil in this recipe. Also, remember to serve it immediately as soon as the puffed rice is mixed with spicy vegetables to enjoy this puffy, crisp and spicy goodness.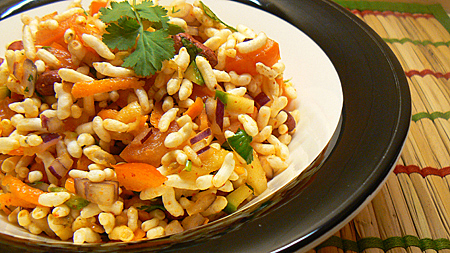 Churu-Muri (Spiced Puffed Rice)
Churu-Muri (Spiced Puffed Rice)
Prep Time: 10-15 mins
Cooking Time: –
Serves: 4-5
Ingredients:
4-6 cups Puffed Rice
¾ -1 medium Red Onion, finely chopped
2-3 medium Tomatoes, finely chopped
1 small Carrot, peeled and grated
2-3 tbsp Raw Mango, peeled and grated
1-2 tbsp Coriander Leaves, finely chopped
2 tbsp Roasted Peanuts
½-¾ tsp Red Chilli Powder (Adjust acc to taste)
1 small Green Chilli, deseed and finely chopped (Optional, use it if you like it really spicy)
1-2 tbsp Lime/Lemon Juice, freshly squeezed (Adjust acc to taste)
1- 1½ tbsp Coconut Oil (you can also use vegetable oil, but try to avoid any other strong flavoured oil)
Salt to taste
Method:
Take chopped red onion, tomato, green chill, coriander leaves and grated mango in a large bowl and mix well.
Add coconut oil, lime juice, red chilli powder and salt to taste and mix well.
Now add crisp puffed rice and roasted peanuts and mix well so that each grain of puffed rice is coated with spiced vegetable mixture. Serve it immediately.
Next recipe coming up is one of my personal favourites from vast collection of street foods; Goli Baje also popularly called as Mangalore Bajji. They are the golden beauties, crisp from out and soft within. The main ingredient used is Maida or all purpose flour which is spiced with curry leaves, green chillies and ginger. The batter is made using sour butter milk and fermented for few hours which make it all fluffy and crisp when deep fried. This has to be one the simplest recipe which uses just a handful of ingredients. But when it comes to taste it is nothing less than extraordinary. Serve it with a cup of strong filter Coffee and see you and your loved ones falling in love with it instantly.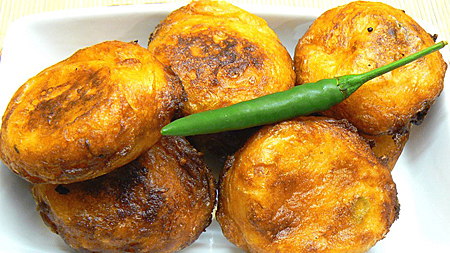 Goli Baje (Deep Fried Maida Fritters)
Prep Time: 5 mins (Excluding resting time)
Cooking Time: 10 mins
Serves: 3-5
Ingredients:
1 cup Maida/All Purpose flour
3-4 Green Chillies, finely chopped (Adjust acc to taste)
1 inch Ginger, grated or finely chopped
1 cup sour Butter Milk or ½ cup Sour Curd/Yogurt mixed in ½ cup of water
¼ tsp Bicarbonate Soda
3-4 Curry Leaves, finely chopped
Salt to taste
Oil for deep frying (Preferably coconut oil)
Method:
Sieve maida, soda and salt to taste in to a wide bowl. Mix in finely chopped green chillies, curry leaves, and ginger. Now slowly pour buttermilk into the dry ingredients to make a thick paste. Make sure that the paste is lump free. Keep it covered for at least 2-3 hours so that you get perfect Goli Baje that is crisp from outside and soft within.
Heat oil in a kadai/wok and take about a tbsp of paste. Use either your fingers or a spoon to drop it into heated oil. Deep fry them on medium flame till they become crisp and turn into lovely golden brown in colour.
Serve hot with Coconut Chutney and "Bechha Bechha Kaapi" meaning hot cup of coffee.
This article is my humble attempt at shedding some light on Street Foods of Udupi-Mangalore. I hope and wish all you readers enjoy discovering these little gems of Udupi-Mangalorean cuisine.
My sincere thanks to dear Sailu for giving me this golden opportunity to showcase food from my hometown which has a rich history, colourful diversity, vibrant people, virgin beaches, incredibly charming buildings and simply irresistible cuisine.
Article, recipes and images – Supriya
Earlier on Indian Food Trail
Maharastra
A Simple Summer Meal by Nupur
Traditional Maharashtrian Thalis – Veg & Non-Veg by Meera
Traditional Maharastrian Sweet & Snacks by Meera
Konkan Region – North Canara
An Essay on Konkani Cuisine by Shilpa
Kerala
Munchies from a Kerala home – Shn of Mishmash