A unique culinary delight of South Indian cuisines is the Podi, a dry spice-mix (powder), where a combination of spices, lentils, herbs or leaves are roasted in oil and ground to make a crumbly powder. These spice mixes or podis are eaten as an accompaniment to South Indian tiffins or breakfast dishes such as dosas, idlis and also mixed with hot steamed rice and ghee or oil.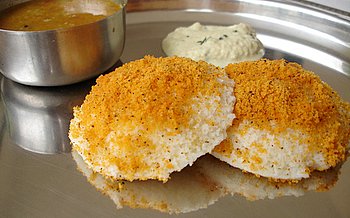 Traditionally podis are hand pounded with each home having its own variations to the innumerable varieties of spice mixes, in terms of the quantity and type of ingredients used in preparing them and the flavor of each of these podis differing from home to home. Almost all traditional South Indian kitchens store atleast 2-3 varieties of homemade podis in dabbas or bottles, as these podis have a shelf life of more than four to eight weeks.
Simple to make, aromatic, packed with proteins, easy on the stomach and tasty, podis are an essential accompaniment and make a traditional vegetarian thali (meal) or South Indian tiffin complete.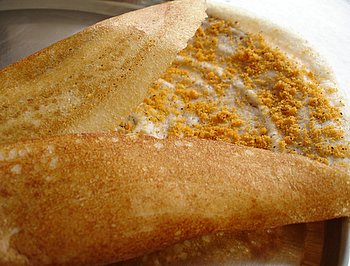 Today's recipe is Endu Kobbari Podi or dry coconut spice mix powder, a combination of lentils, dry red chillis , garlic and dry coconut which are roasted in oil till the aromas are released and ground to make a fine powder. This podi has a strong nutty flavor with a subtle spice taste and a hint of sweetness due to the red chillis and coconut and makes a great accompaniment to dosas and idlis.