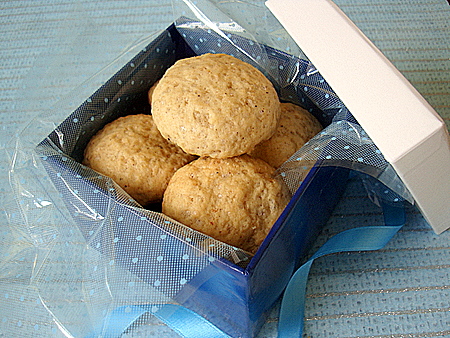 Eggless Almond and Chocolate filled Butter Cookies
Its raining Christmas cookies! 🙂 Baked loads of eggless butter cookies with a delicious surprise packed in them. Almond and chocolate chip filled butter cookies! I had bookmarked this recipe a couple of months ago from a lovely blog, Evilshenanigans.
The cookies might not be very visually appealing with Plain Jane kinda of looks. One bite into the cookie and you will realize that its the most palate pleasing sweet treat. Makes for a perfect festive give away Christmas cookie!
Eggless Almond and Chocolate filled Butter Cookies Recipe
Preparation: 20 mts, Baking: 25-30 mts
.
Ingredients:
2 cups maida/flour
1 cup butter
3 tbsps sugar
1/2 tsp cinnamon pwd
1/2 tsp vanilla essence
2-3 tbsps low fat milk
1/4 tsp salt
few tbsps powdered sugar
For almond chocolate filling:
1/2 cup ground almonds
1/3 cup sugar
3 tbsps mini chocolate chips
1/2 tsp vanilla essence
1 Mix all the ingredients required for filling in a bowl and keep aside.
2 In a bowl, combine flour, salt, vanilla essence, sugar, butter and combine. Add 2-3 tbsps milk and make a smooth soft dough.
3 Prepare small balls as shown in the picture above. Flatten the ball using your fingers and place a tbsp of filling in the center and enclose it. Roll into a smooth round ball.
4 Prepare with rest of the dough and place on baking sheet about an inch apart. Lightly flatten the balls.
5 Bake in a pre-heated oven at 180 C for about 28-30 mts till the edges are slightly toasted or till done. While the cookies are warm, dust them with powdered sugar. Its optional though. In case you are not dusting with powdered sugar, add another 2 tbsps of sugar to the dough at the time of mixing the dough ingredients.
6 Cool on a wire rack. Repeat with remaining dough. Store in airtight container. They store up to a week.